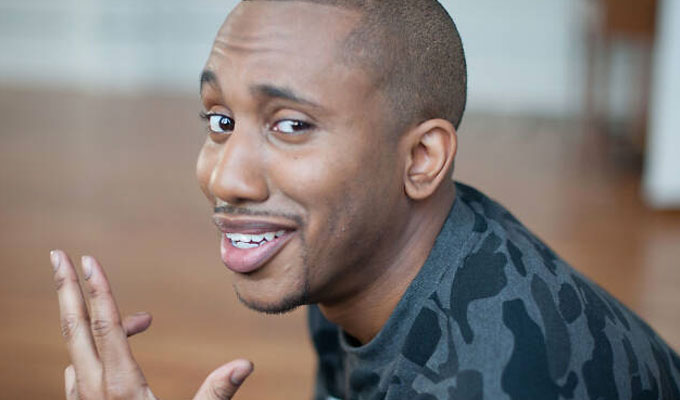 Chris Redd
Unlike most of his friends and cousins in Chicago, Chris Redd never made it as a gangster. Blessed with a beaming smile and impish wit, he didn't exactly fit with thug life – even before you consider that he's essentially too strait-laced and unassuming for a life of aggressive crime.
Still, the Illinois prison population's loss is comedy's gain. Redd has been a regular cast member on Saturday Night Live for seven years and on his first visit to London proves himself to be a compelling storyteller and playfully quick-witted tease, always mucking about the audience.
Some of his material didn't quite make it through Customs – for example, the phrase 'Underground Railroad' doesn't evoke the same image in the UK as the US. But gags that didn't quite land often worked out better than the scripted material, allowing him to show off his cheeky spontaneity. The misunderstandings went two ways, too: his bafflement at hearing the phrase 'how long is a piece of string?' for the first time was certainly entertaining as he reacted to it as if being posed some impenetrable Sphinx-like riddle.
Most comedians are outsiders, and him being detached from the criminality of his friends and cousins provided the richest seam of his material, as he self-effacingly mocked his own inadequacies, as well as the macho bravado of his old mates, with his most engrossing stories.
Later anecdotes stick to more familiar topics: acting paranoid when high, arguments in long-term relationships, and sexual adventure. You may find it hard to put a finger on a pithy punchline in some of these sections - and indeed some routines just evaporate to nothing – but the journey is the joy more than the destination.
Redd always has the audience rapt – and displays fierce funny bones when riffing mischievously off the cuff, plucking jokes out of thin air. That's a killer combination, part no-nonsense sass from a city upbringing, part seductive Southern languor inherited from his parents from the other side of the Mason-Dixon line.
This may be his first visit to the UK, but hopefully it won't be his last.
• Chris Redd is at Soho Theatre until Saturday.
Review date: 13 Jun 2019
Reviewed by: Steve Bennett
Reviewed at: Soho Theatre
Recent Reviews
What do you think?