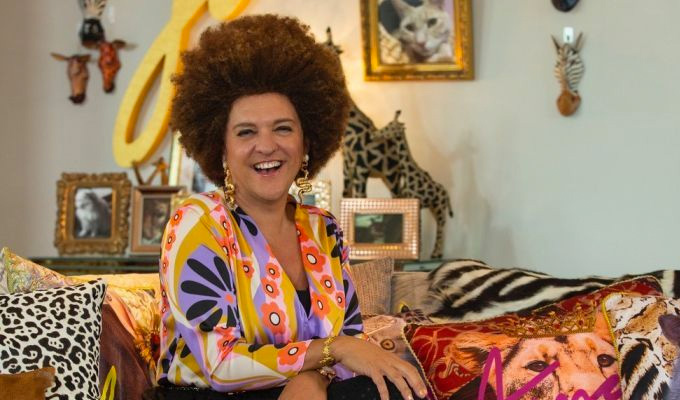 Lunatics

The adjective 'controversial' is usually attached to Chris Lilley's name, given that he has a history of characters that goes beyond flirting with racist stereotypes.
Indeed when Netflix first released the trailer for his new ten-part series Lunatics, the conversation was dominated by whether he had adopted a form of 'blackface' for one of his alter egos.
He hadn't, so the focus switched to whether he's punching down as those less fortunate than him. Sometimes he is, but focussing on that aspect would be to avoid the underlying problem with this show – that it is singularly unfunny.
To call the comedy juvenile would be an insult to the fine tradition of the fart joke. Lilley's writing is so lazily crass that it's one-dimensional, with characters entirely defined by one characteristic. She's a college freshwoman, but 7ft 3in tall; he's a real estate agent – but he's got a big arse.
Perhaps realising that's barely enough, he gives this last guy Quentin Cook another interest: DJing… under the name DJ Cunt, a word Lilley loves because he's oh-so edgy.
Another issue with the show – how long have you got? – is that in the increasingly tired mockumentary format his creations aren't doing anything especially interesting or purposeful, just pottering around their daily lives. They seldom interact with anyone on all but the most superficial ways. Perhaps Lilley is scared of being overshadowed. One eye-roll from a supporting actor carries more wit than his desperate overacting.
Narrative is treated as a dirty word, too. Maybe over the series something happens, but nothing in the first, dreary 40-minute episodes to entice you to stick around.
We also meet Keith Dick – oh, what an amusing surname! – a clothes store owner who thinks he's the next Giorgio Armani and a much-loved boss, neither of which is close to the truth. Think David Brent, but take away the subtlety, pathos, originality and entire supporting cast – and instead give him a sexual kink that makes him want to fuck a cash register.
Similar delusions come from schoolboy Gavin McGregor who believes having online videos that are moderately successful in his school, makes him a media megastar. But he's so thoroughly unpleasant – an obese, sweary, arrogant, bully – that he's grating to watch.
Flamboyant South African 'pet psychic' Jana Melhoopen-Jonks (guess what? she grasps in the dark for supposed messages from the other side) could have been a walk-on part in Ab Fab, but is thinly stretched here.
And Lilley's most troublesome creation is former porn star Joyce Jeffries, who clearly has mental health issues, Hearing Voices and obsessed with collecting kitsch nicknacks. Still, it allows Lilley to get the Photoshop out and put his head onto real topless models, for images you'll want to forget.
It needs to be pointed out – as it's not apparent from Lunatics – that Lilley did make a great show 12 years ago. Summer Heights High was not entirely without its issues, but the characters were partially sympathetic, and the situations funny confined to one setting.
Netflix famously never releases viewing figures for its shows, but it's hard to see how anybody not in Lilley's immediate family would sit through ten episodes of this laugh-free effort.
Review date: 24 Apr 2019
Reviewed by: Steve Bennett
Recent Reviews
What do you think?