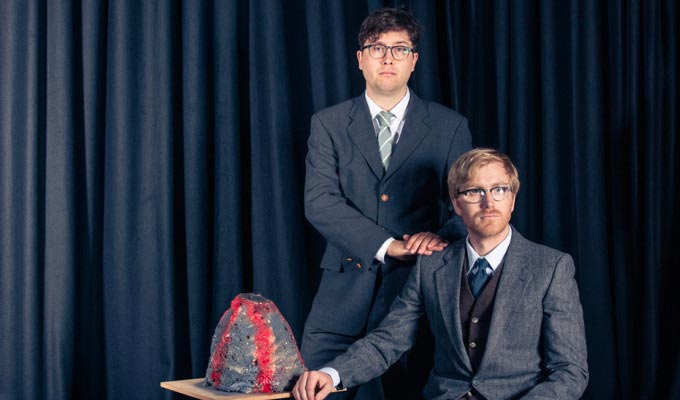 Andy Matthews & Alasdair Tremblay-Birchall: Magma
This show – or, rather, engineering presentation – has no less ambition that solving all mankind's problems, from prejudice to the order of the letters in the alphabet.
And the solution? Magma.
The polo-neck-sporting alter-egos of sketch duo Andy Matthews and Alasdair Tremblay-Birchall have ambitious plans to harvest the molten rock at the planet's core to create a bold new society where everything is possible. And this is the pitch to wealthy investors to make it happen.
Such an open-ended premise when literally everything is up for grabs opens up limitless possibilities, which the duo take every advantage of, while remaining true to a single pure notion – that there is nothing that cannot be improved by engineering.
They are nerds, but nerds with ideas. And the impeccable internal logic at the heart of all their notions, however fanciful, proves that.
Aptly enough, their script is precision engineered, with barely a wasted word. They've examined each sentence to see whether an extra punchline can be slipped in, or whether they can say it with slightly offbeat syntax or vocabulary to make it funny. When so many comedy shows are held by the stories or the charisma of the performers, Magma comprises jokes upon jokes upon jokes, jokes, and the effect is laughs that build and build.
Nor are they throwaway lines. Matthews and Tremblay-Birchall are hugely imaginative writers: absurd, inventive and very funny as they probe issues you would never think probing, but which turn out to yield comedy gold. Or even better, comedy magma.
This richly layered show is at once beautifully pedantic and expansively surreal, however oxymoronic that combination surrounds. There are running jokes about their geeky feud with architects or the inadequacies of maths and their ridiculous numbers before our visionary duo offer their unique take on how the 'pyramid of needs' will be met in building their brave new world. But is there an ulterior motive for creating such a Utopia, designed by engineering alone?
The hour is catnip for the curious, in both senses of the word, and occasionally nuggets of real and obscure truth filter into the narrative – such as the unlikely objects once used as tie clips – as if to prove their quixotic ideas aren't as bonkers as they made out.
After all, they laughed at Galileo, they laughed at Edison and they laughed at the Wright Brothers. And you'll sure as hell laugh at Andy Matthews and Alasdair Tremblay-Birchall too.
Review date: 13 Apr 2019
Reviewed by: Steve Bennett
Recent Reviews
What do you think?