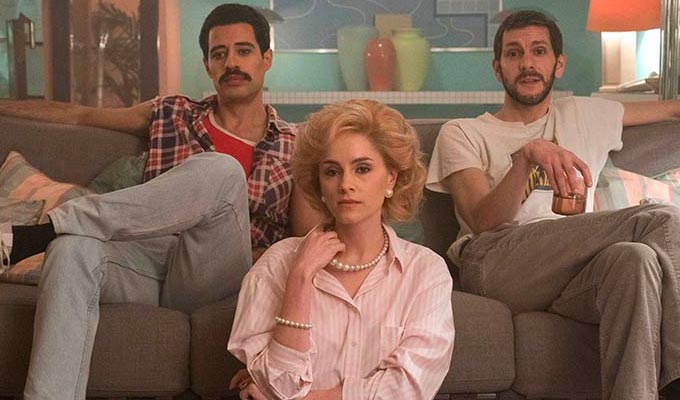 Urban Myths: Princess Diana, Freddie Mercury and Kenny Everett
Sky Arts have chosen a cracking true story to kick off their new series of Urban Myths, about the time Freddie Mercury, Kenny Everett and Princess Diana walked into a bar – the Royal Vauxhall Tavern gay club to be precise, the epicentre of London's drag scene at the time.
This take on the events of 1988, confirmed by Everett's pal Cleo Rocos in her memoirs, has as much of a double life as the divas on stage.
One moment it's a joyous romp as Diana, repressed by Royal decorum, lets her hair down with two outrageous characters. The next it's an earnest and heartfelt discussion of Aids after the princess stumbles into the dressing room of one of the performers, and hears the tragic story of his partner's death and the terrible fate awaiting him: an agonising, lonely death that even his family believes he brought on himself.
This aspect of the story has been imagined by writer Pete Jackson, who previously penned Radio 4's Love In Recovery, and does not sit too comfortably with the raucous entertainment on the dance floor next door. Certainly that was the two-sided life of many gay men in the 1980s, with wild nights out and private grief, but the juxtaposition seems clunky here. Also, condensing Diana's all-important public support for Aids victims into one revelatory moment seems simplistic and reductive.
What does stand out, however, are the performances. Mathew Baynton is especially strong as Kenny Everett's spit – and that surely is the right word for the creator of Sid Snot. The subplot with him trying to be anonymous so he can find a true connection with someone undazzled by his celebrity while Mercury (David Avery) uses all of his fame to get laid, is jolly; as is the set-up as the pair sit with Diana (Sophie Rundle) watching Golden Girls before they hit the town.
Meanwhile,Edinburgh Comedy Award winner – and indeed former Chortle Student Comedy Award finalist – Richard Gadd adds another feather (boa) to his acting cap with his sensitive portrayal of the tragic drag queen, Gareth. But this does not address the awkward tonal changes of this half-hour story.
The notorious night out – which in real life also involved Rocos – has already been the subject of a stage play, written by cabaret performer Desmond O'Connor. Now let's see if they cover it in the next series of The Crown…
• Urban Myths: Princess Diana, Freddie Mercury and Kenny Everett is on Sky Arts at 9pm tonight.
Review date: 10 Apr 2019
Reviewed by: Steve Bennett
Recent Reviews
What do you think?