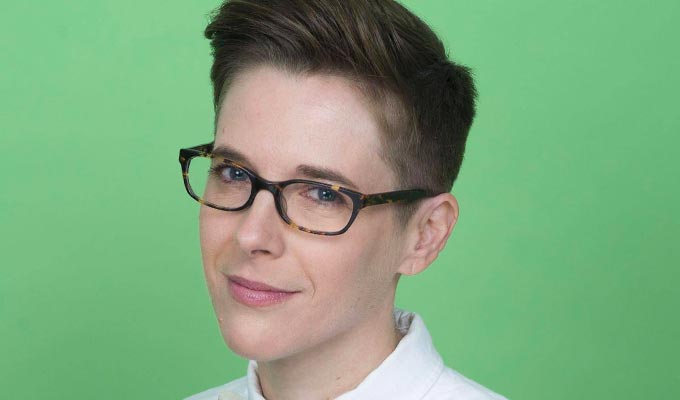 Comedians Of The World - Deanne Smith: Gentleman Elf
Note: This review is from 2019
'I am everything that you think I am,' says bow-tie-sporting comic Deanne Smith, admitting that her appearance immediately identifies her as a member of several tribes. Lesbian, tick; vegan, tick; agendered, tick.
None of these are traditionally mainstream demographics, though each are becoming more so, at different rates. But as she plays with the stereotypes of what might define her as an 'outsider', her sharp, self-knowing sense of humour and eager, friendly delivery throws the doors to her world wide open.
Perhaps because of this, a couple of her icebreaking lines are very familiar. When talking about lesbian sex, she quips 'you've all seen the videos' and she makes a joke about vegans lacking strength. But these are just gateway gags, acknowledging she recognises the archetypes, before getting on with her everyday stories.
She also identifies, unlikely as it first appears, as middle-aged, with a definition that forces audience members of a similar vintage to face up to some cold facts, too. Her attitude to life in general is summarised by an analogy with escape rooms – though she prevents a more bright-eyed and breezy facade to her stand-up audiences.
Gentleman Elf is nicely put together, framing the whole gig as a relationship, and foreshadowing how it will end with a break-up strategy. But more subtly, shorter routines tumble seamlessly out of longer stories, allowing her to cover a lot of ground with invisible segues.
Those anecdotes can fall into broadly familiar territory, but Smith adds her own twist, such as the tale of her receiving a bikini wax being amplified by her genuine misunderstanding at what it entailed, so allowing a horror to unfold.
• Comedians Of The World - Deanne Smith: Gentleman Elf is available on Netflix now. Click here to watch
Review date: 5 Jan 2019
Reviewed by: Steve Bennett