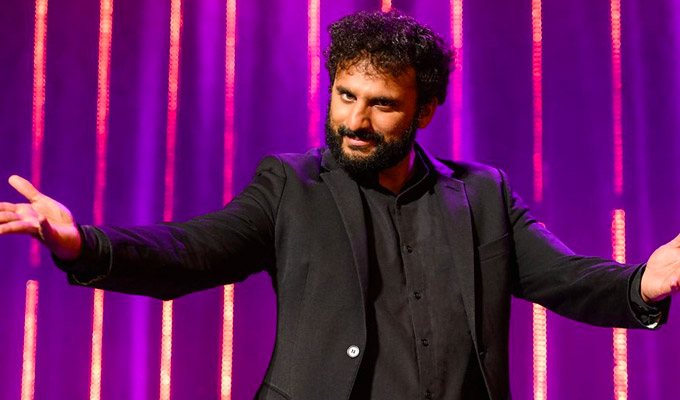 Comedians Of The World: Nish Kumar - Very Clever Boy
Fast-rising Mash Show host Nish Kumar has left the satire behind for his first Netflix special to focus on the more global issue of just how intense his personality can be.
In the course of this punchy half hour, he variously describes himself as 'unbearably delightful', 'a rampant egotist' and 'very clever' – and there's little arguing with any of that. You could probably add 'smug' as well, though he's got some reason to be.
His vehement passions are a sharp comic tool, as he demonstrates with an opening tirade against Monopoly. He's not the first comic to ponder what kind of message the capitalist board game is teaching children, but his fervour combined with the forensic way he relentlessly reinforces the central idea means he can probably now claim his own monopoly on the subject.
Such a diatribe will do nothing to dispel his reputation as a left-wing comedian, so hated by Andrew Neil and Daily Mail opinion-writers, but he has a typically self-satisfied riposte to that charge, too.
However this material – and an aside praising cricket over baseball designed purely to rile the North American audience – is merely a preamble for a couple of long stories about his inappropriately fervent reactions to seeing musical heroes in concert, and to considering what level of fame he would want if he was to be a rock-and-roll millionaire.
They are shaggy-dog stories, with as much riding on the urgent pacing and terse energy of Kumar's emphatic performance more than the final destination. Such rhythms drive forward the story and bring the listener along with its unstoppable momentum, even if some of Kumar's affected exaggerations – such as describing Coldplay as 'all music' – seem a bit forced.
However, Kumar has the self-awareness to be affable even at his most intense. 'Unbearably delightful' indeed, but at least he can make light of it.
Nish Kumar - Very Clever Boy was released on Netflix today as part of its Comedians Of The World series. Watch here.
Review date: 1 Jan 2019
Reviewed by: Steve Bennett
Recent Reviews
What do you think?