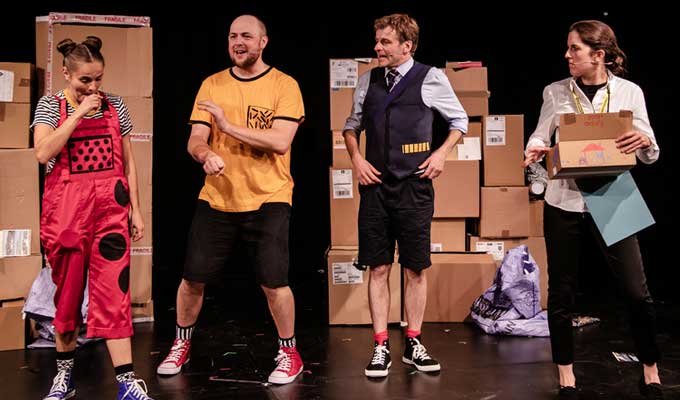 Beetlemania: Kafta For Kids!
Beetlemania: Kafka For Kids suffers from something of a branding problem. It's in the comedy section of the Fringe programme, but not only does it sound like a family show but also the worst kind of family show – an educational one. You might imagine all the middle-class tiger parents dragging their offspring to this, but it's rather under-attended give the talent involved.
Even in its skilful execution, it defies easy categorisation, appealing to both kids and adults because of its playful childishness and silly innocence – yet based on bleak nihilistic literature. It embraces its central concept rather than subverting it, as the Funz And Gamez crossover did. Beetlemania's tone is closer to The Play That Goes Wrong.
The key dynamic is between the unquenchable CBBC cheeriness of Karl – played with trademark ebullience by Pappy's idiot Tom Parry – coming up against the strait-laced patrician Karter (former Perrier-winner Will Adamsdale) who wants to convey the serious intent of Franz Kafta's work.
The father-son dynamic between them is obvious, and best encapsulated in Poseidon, where Parry's excitement at getting to play the god of the seas is squashed under the weight of admin that the job entails, the very same point the dour Bohemian writer was making in his more challenging way.
Kafka's perceived dryness and aversion to a neat story arc are mocked, but also conveyed. This is genuinely a good introduction to some of the author's less well-known stories - Bucket Rider; The Bridge; Blumfeld, A Elderly Bachelor – which tend to be about 'lonely men with health problems' as Karter puts it.
The storytelling team is completed by Heidi Niemi as Kat, allegedly from Finland, whose incomprehensibility is one of several running jokes, also including Karl having a pet beetle he wants to cast in Metamorphosis (who inevitably escapes, causing chaos) and a priceless volume of Kafka's handwritten notes that's gone missing, presumed stolen. Meanwhile, Rose Robinson plays a number of implacable authority figures – a Kafka piece has to have implacable authority figures – threatening to shut down the show.
Created by Parry and director Russell Bolam, Beetlemania's staging is wonderfully inventive, its set and props made from parcels and packaging material Karl liberated from a Royal Mail van. The set pieces fizzle with life, staying just the right side of zany, while upbeat songs like We're Just A Pack Of Nobodies add an extra pizzazz, making this probably the most riotously cheerful take on existential angst at the Fringe.
Review date: 26 Aug 2018
Reviewed by: Steve Bennett
Reviewed at: Pleasance Dome
Recent Reviews
What do you think?