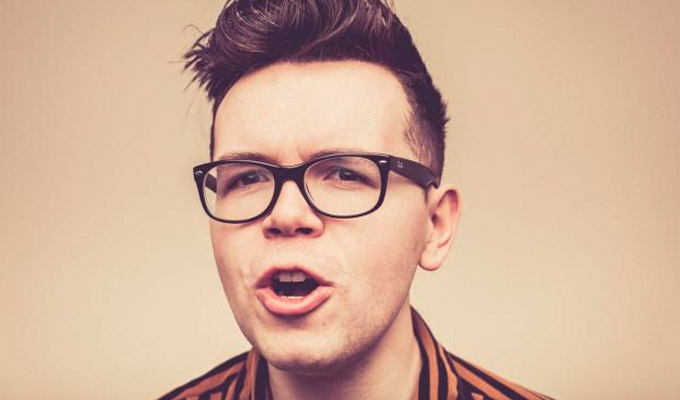 Christopher Macarthur-Boyd: Home Sweet Home
You can see why Christopher MacArthur-Boyd was recently signed to the powerful Off The Kerb management stable. Since emerging on the Scottish circuit, his persona has developed from that of the commonplace beta male, bemoaning his luck with the ladies, to something more relatable, fully rounded, and yet distinctive.
At 5ft 3in, bespectacled and with a taller, older Australian girlfriend, he's never going to be a swaggering alpha. And he's also part of the boomerang generation of twentysomethings who've returned to live with their parents. But he now plays up his East End of Glasgow roots, emphasising anything even vaguely intimidating with a deep growl, making for something of a Jekyll and Hyde delivery.
Meanwhile, he's also inherited some of the hipster vibe of his tattooed, hairdresser father. Or at least tried to, with at least one of his tattoos a straightforward, pullback and reveal gag in itself, so staggeringly ill-conceived in every aspect.
Thus, alternating between cocky and self-deprecating, you're never quite sure of where the end point of one of his anecdotes will be, with his cool, alternative parents actually turning out to be increasingly right-wing. The racism of his grandmother and the denizens of Bathgate during a particularly tough gig are more-or-less taken as predictable. And he cringes at the memory of an ex who would attempt to order food in the accent of the waiting staff. Yet his own rejection of racism is more off-the-wall, based on finding easier scapegoats to vilify.
As when he sets up the idea of a previously unrecognised feud between Scotland and Hungary, there are times when he skates over the setup, caught up in his easy back and forth banter with the crowd. And though his vision of Scottish football as a family melodrama of father-son inarticulacy is seductive, it's a bit rich coming from such an avowed wrestling fan. His adoration of the equally pint-sized Rey Mysterio gives him his best line in the show when his mother tidies away his wrestling mask. And there's an endearing image of him wearing it to give himself pep talks. But he doesn't really convert anyone to the sweaty spectacle's appeal.
He's also less than convincing on his teenage wrestles with his sexuality, the genuine fumbles of trying to lose his virginity extrapolated into a crisis of heterosexuality that seems contrived purely for the punchline. Still, his abrupt switches in confidence are nicely exploited in a confrontation with his mother over Scottish independence, his bullish martyrdom immediately dismissed by her pragmatic, unimpressed response.
Chatty, authoritative but with underlying insecurities, Macarthur-Boyd grows ever more assured with each passing month, with his working-class boy done good charm reminiscent of Kevin Bridges, and this full-length debut surely just a marker on his way to bigger things.
Review date: 25 Aug 2018
Reviewed by: Jay Richardson
Recent Reviews
What do you think?