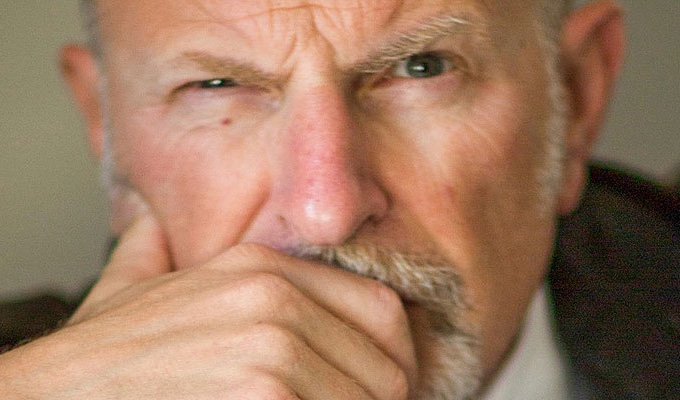 Simon Evans: Genius 2:0
Note: This review is from 2018
Wily old contrarian that he is, Simon Evans's acclaim of Edinburgh as the cradle of the Enlightenment comes with the caveat that his audience aren't worthy of the magnificence they've inherited.
At a time when many stand-ups are decrying the elderly for voting for Brexit, Genius 2.0 is a defence of the generation of Evans's 88-year-old father, a man whose sherry-sipping habits the comic once lamented, but now finds himself emulating.
In large part, and with the little gentleman's club stage trappings he's arranged around himself, the show is an avowed rejection of egalitarianism. Yet he begins with a call for empathy, chastising the nanny state for impinging on the British right to drink through the everyday horrors of existence.
At 53, Evans already fears dementia and a standout early routine is his version of the senior moments tales that used to tickle the old geezers on Terry Wogan's radio show.
An elaborate variation on the theme of walking into a room and forgetting what you've come in for, Evans's literal multi-level blundering up and down stairs characterises him as an old buffer kept harmlessly occupied in the hamster cage of his own house, though there's an element of peril introduced with the arrival of a potentially malevolent cat.
With only a few pithy lines about Brexit, he employs the referendum more as a means to contrast his own terror at the responsibility with the determination of his mobility-impaired parents to vote, despite knowing that their opposing views would cancel each other out.
He defends his parents for their relative lack of education, their opportunities limited as they were products of their time. But he allows his intellectual snobbery free rein in passionately condemning our current political class, specifically the academic records of Theresa May and Jeremy Corbyn and the general tenor of the DUP, whom he captures with a hilariously nightmarish image of something monstrous emerging from the frozen North.
There's real strength of feeling here, the idea we are led by the least amongst us. But reasserting his calm, he assumes the patriarchal mantle to patronise his daughter, dismissing the motivational quotes on her bedroom wall and pedantically deconstructing the plot of Finding Nemo, haughtily pooh-poohing its message that anyone can be a winner and succeed.
Unfashionable though it may be, Evans appears compelled towards a sort of Nietzschean ideal of a few geniuses raising society up with their peerless intellect, pointing to the disparity of ambition displayed in his 1973 edition of the Guinness Book of Records with his son's 2017 version.
Plenty of the examples of trendy, group non-achievements he cites from the later edition are sitting ducks for a comic of Evans's wit and withering scorn. Yet with recourse to John Stuart Mill and some of the more wilfully elitist examples from his own edition, he argues that supreme intelligence will not be enough on its own and that strength of eccentric character is what's required to guide us through the choppy waters of breaking free from Europe.
With tongue largely in cheek, he rejects democracy for a return to a far older political model, the sherry-facilitated twinkle in his eye that of the slightly mad patrician secure in his knowledge that he knows what's best for you.
I hesitate to call it genius. But Evans's superior stand-up competence comes close to convincing you he might be onto something.
Review date: 24 Aug 2018
Reviewed by: Jay Richardson
Reviewed at: Assembly George Square