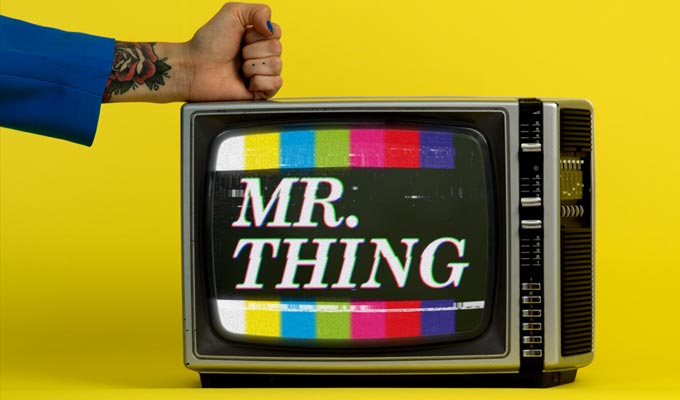 Mr Thing
A house band, contrived silly shenanigans, strained wordplay… if you're missing The Horne Section this Fringe, Mr Thing might well plug the hole.
This anarchic, late-night, multimedia chat show has cult in its genes, like an Adult Swim take on the genre. The cast wear suits in primary colours, the cluttered set looks like a clearout at a vintage store, there's a well-spoken, actorly puppet bartender called Steve, plus hidden cameras, jingles and graphics – not to mention a plastic arse that fires a ping-pong ball towards the keyboard player every time someone likes the show's Facebook page.
That's a lot going on before we get to a second's worth of content. Tom Clarkson is the gregarious, ebullient host with an unaffected cheeriness and a pocket full of running gags, forever tripping up on the step as he bounds up into the audience, for example, as well as a healthy supply of one-off moments of madness.
His sidekick Owen Visser mixes up visual and audio effects as the show progresses, thanks to audience-facing cameras and a sampler. The star of the show is probably Steve, though, with absurd, deadpanned scenes from his alleged solo shows, such as the one-man tribute to the double act. But there's a great dynamic between everyone on stage, mucking about for the sheer joy of it.
Mr Thing is a frantically busy production, lots of slight jokes building up into an overwhelming tsunami of off-kilter light entertainment. Songs come out of nowhere and, yes, there is a bit of audience participation: from the couple set up via a Blind Date-style segment (using a bogus app they've called Thingder) to a showcase of one punter's hidden talent. The woman who served up her peculiar take on Irish folk dancing tonight was an amazingly good sport.
In fact, the only thing that didn't really fire were the sections with actual guests. Elliot Bibby's magic tricks seemed too conventional for this bonkers world, and a painful punny Pictionary-type game based on his profession, flagged; while Hot Gay Time Machine's song was surprisingly lower-key compared to the high-octane mood of the rest of the hour.
Mr Thing boats a strong visual vibe, and plenty of Instagrammable moments that will surely help spread the word on social media… perhaps explaining why a hitherto unknown show can fill the substantial Pleasance Forth in the midnight hour. That's the thing about cults, they have a tendency to spread.
Review date: 20 Aug 2018
Reviewed by: Steve Bennett
Reviewed at: Pleasance Courtyard
Recent Reviews
What do you think?