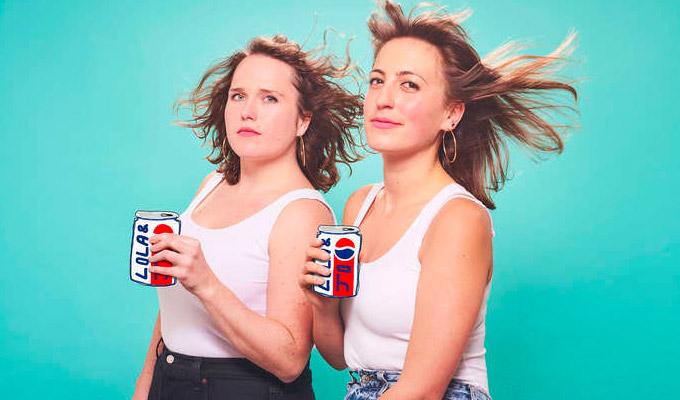 Lola and Jo: Focus Groupies
This is definitely a proper focus group, conducting vital research into whether the comedy product being planned by a certain anonymous female double act will be well-received by the market. 'No one is here to laugh recreationally,' we are told by Jackie and Leslie the humourless Scottish facilitators conducting this serious survey.
Yes, it's some bright meta packaging to zhuzh up a solid selection of sketches from Lola & Jo while allowing them to examine their own characters – 'a toxic mix of arrogance and insecurity' – through some third person distance.
To muddy the waters further, Leslie/Lola is insisting on adding a CSI-style crime procedural into the show, just because they're very popular these days.
It's a credit to the clarity of writing and performance that the show doesn't collapse under this weight of this structure, and is instead enriched by it.
When they are not hiding behind their dour alter-egos, the pair bring a winning energy to the room. And for all the off-stage tension they mention, they are clearly besties enjoying their work and each others' company. They always seem to be fighting a battle to hold back their smiles, which is very engaging. And at crucial times, this spills out into outright exuberant joy.
In contrast, their characters tend to thrive on making things awkward, from whatever extreme. On one hand, we have insecure neighbours desperate to drum up guests for their house party as long as they abide by the very carefully laid-out rules and regs, and on the other a weird couple offering an Airbnb, who again list vital information to visitors, but this time they are disturbingly permissive. And their passive-aggressive wedding photographer is a delight, with his wonderfully crass instructions to the party.
A running joke concerns a Tinder exchange, played out over a series of messages that doesn't seem to amount to much while it's ongoing. But in fitting with this cleverly structured show, it pays off with what's surely the most joyful period joke of this, or any other Fringe. It's bloody brilliant.
Review date: 16 Aug 2018
Reviewed by: Steve Bennett
Reviewed at: Underbelly Cowgate
Recent Reviews
What do you think?