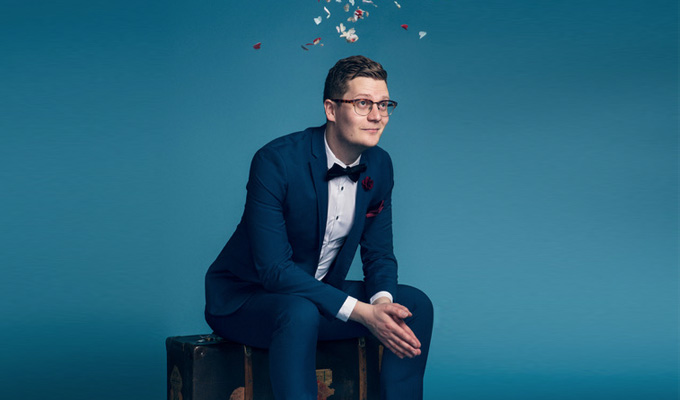 Robin Morgan: Honeymoon
Old-fashioned romantics, step right up – Robin Morgan and his teenage sweetheart have got married recently, they were each other's 'first' and everything. OK, he's effectively on his honeymoon, now, up at the Fringe without her, but you have to break a few eggs to make a good angle for your Edinburgh show.
And pretty handy it is, too. Morgan is a perfectly charming host for his show about this most unusual honeymoon situation, and he is able to rouse a sweaty Saturday crowd into life. That's all the more impressive considering the mic levels were a bit awry and he wasn't easy to hear from the back of the room.
As Morgan is no doubt aware, stand-up comedy is not short of white middle-class males telling stories about themselves, and his mannerisms and delivery are all very familiar. But it gradually becomes clear that he's better than your average comic. A couple of early semi-punchlines early on flag this up, one about being a child not wanting to cover up his full Cardiff City kit, another on the prospect of working till the age of 90, cut through and suggest he's got a bit of something.
Other sparkly bits of writing emerge, like his material on planning his wedding, and the lack of drama at his stag, which segues into a funny conversation with a couple on the front row about the price worth paying for a headbutt. A couple of quite cliched jokes slip through the net, like a reference to how long he and his wife have sex, but they are at least cancelled out by some fresh concepts and turns of phrase.
The plight of the millennial is a running theme of the show, which again is hardly an obscure subject among comics, but he's more interesting than most on it, like his amusingly original idea for solving the housing crisis. I especially enjoyed his idea for securing his long-term financial future, which is, in fact, a potentially treasonous joke about Prince George.
A little device that pops up is a series of letters he is writing to his wife while he's up in Edinburgh, telling her things she doesn't know about him. It serves its purpose well, leading to a few laughs and bringing a bit of structure to proceedings. This and the strong premise to the show mean that as an audience member you're on solid ground.
His final story is a bit off-topic and the sort of thing you feel you've heard before, no matter how well he tells it. But overall this is an enjoyable show by a comic whose writing gives him a chance of standing out. It may not be your dream show, but if you're in the right place and the right time, go for it.
Review date: 15 Aug 2018
Reviewed by: Paul Fleckney
Reviewed at: Laughing Horse @ The Pear Tree
Recent Reviews
What do you think?