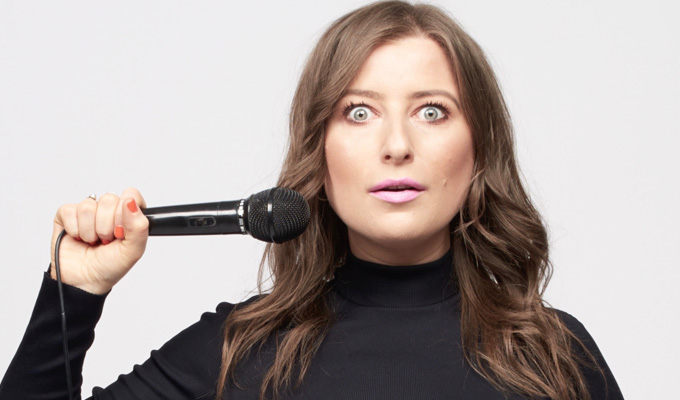 Naomi McDonald: Stardumb
To corrupt the old football chant, she mainly wins when she's singing.
Impressionist Naomi McDonald makes a robust Fringe debut, mimicking plenty of celebrities from the tabloid end of the spectrum – Sharon Osbourne, Cheryl, Kerry Katona – and making a decent fist of all of them.
However she generally hasn't quite found the holy grail of impersonators, of being able to create caricatures that could almost stand alone as comedy characters if you didn't know the celebrity being spoofed.
Lewis MacLoud's Nigel 'no, let me speak' Farage on Dead Ringers is probably the best example of this. In comparison, McDonald's take on Bear Grylls in Waitrose feels rather flat, and that's before we add in all the predicable references to faddish foods.
One clear exception is McDonald's Fearne Cotton, who is a delight – absolutely bonkers and giddily happy with the fact, striking all manner of bizarre angular poses as she speaks. No wonder McDonald returns to her to introduce several of the other creations. McDonald adopts an even weirder position as Kim Kardashian, literally talking out of her arse.
In what's quite a strange decision, the whole show is actually hosted in the guise of the an upbeat, slightly ditzy but otherwise rather normal character called Mandy Morgan. It seems an odd halfway house - a sign of the impressionist's need to hide behind someone else's mask, perhaps? – since either being herself or framing it all as The Fearne Cotton Show would have made a lot more sense.
McDonald's scripting is patchy, too, with the sole fact that she's doing an impression doing so much of the heavy lifting because the actual joke isn't that strong. Though sometimes it works very well: the skit about Saoirse Ronan's first name, for example, has the obvious premise that it's unpronounceable, but the tongue-twisting alternatives are funny.
However, the show always lifts when there's a song – and there plenty of them, from all the one-name stars: Adele to Bjork, Kylie to Beyoncé, Rihanna to Britney. They are a mix of rewrites (Queen Bey's Halo becomes about hoovering) or stylistic spoofs, but they all performed with verve and aplomb.
McDonald doesn't have the megawatt oomph of Jess Robinson – but then who does? – but her cheerful enthusiasm, with occasional overblown dances moves, injects more energy into the room.
She is not a topical impressionist. Her Katie Price doesn't even make reference to the model's current financial woes. Theresa May makes a brief appearance as if a surrogate auntie, her voice rasping like a 40-a-day smoker, while Melania Trump offers the expected terrified, plastic star as she speaks about leaving Donald.
But this former member of the NewsRevue team has more than enough repertoire from the entertainment world to make her a useful addition to any impressionist show cast.
And a note too, about the great Fireside venue she plays: it's a charmingly quirky, indie, Fringey – and yes, probably a bit hipstery – venue beneath the arches just yards off the Royal Mile towards Waverley, yet feeling a long way off the beaten path.
Review date: 12 Aug 2018
Reviewed by: Steve Bennett
Reviewed at: Fireside
Recent Reviews
What do you think?