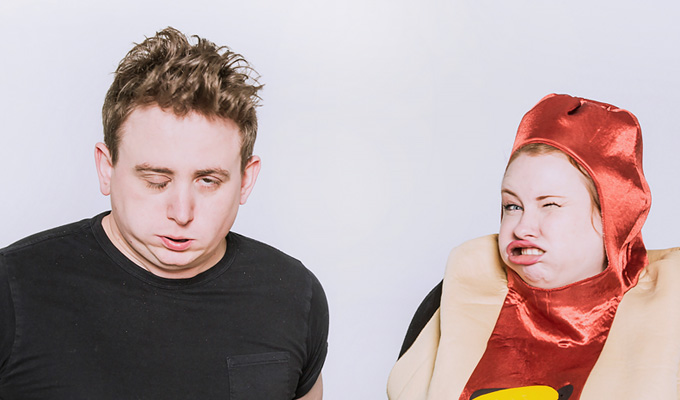 The Delightful Sausage: Regeneration Game
They are as both as delightful and as sausagey as advertised; a double act oozing daft charm, one of whom spends the hour dressed, for no special reason, as a hot dog. Given the stifling heat of Edinburgh venues, it's a gimmick Amy Gledhill will probably come to regret.
But it won't dampen her gleeful enthusiasm. Nothing will, I suspect. For she and her comedy partner Chris Cantrill have a commodity that can be in surprisingly rare in comedy - a sense of fun. They palpably delight in each other's sense of humour, chuckling through script and ad libs alike, without plunging into the self-indulgent.
They are fantastic company, with a great rapport both with each other and the audience. Cantrill is the more strait-laced of the two, slightly prouder but still a little dumb. Wide-eyed Gledhill is giddy and enthusiastic, though the straightman/funnywoman dynamic is very fluid and Cantrill is allowed his idiosyncrasies, too. Both are naive, though they display an idiot savant savvy every so often, while their outwardly shambolic nature both vitalises their jokes and conceals their sharpness.
In fact, Regeneration Game is much tightly written than their knockabout style would suggest, especially in the first section, when we are introduced to Gledhill and Cantrill as a couple of PWICs. Members of the Precinct of Wider Ickleton Community Saviours, that is, a task force striving to make their declining hometown the next UK City of Culture.
There's a gag every line or two, from puns to malapropisms to personality-driven punchlines that expose the gap between the duo's expectations and reality. Plenty are gleefully childish – calling people PWICs for starters – and some are cheekily knowing, playing with the artifice of the situation, but never undermining it completely. Projected slides ram in extra gags too, such as bogus adverts for local businesses.
However, the middle act – the pair adorably insist this is a play – dips considerably as the duo get bogged down with a fairly typical bit of Fringe nonsense delving into a woodland fantasy with a ridiculous prop and little grip on the reality they'd already set up. It's as if the League Of Gentlemen temporarily left Royston Vasey to go into space.
Given how silly their regeneration bid already is, the core premise allows for plenty of playful absurdity without such need to go off-piste entirely. Once we're back in Ickleton, for example, Cantrill offers up an excellently misguided play about feminism. Like plenty other of their jokes it's towards the 'wrong' end of the comedy spectrum, but couched in such daftness and innocence that it plays out.
The pair both have funny bones, no doubt about that, and a joie de vivre that makes The Delightful Sausage sizzle. Just a touch more focus to address those more random sections of the script and they could be unstoppable.
Review date: 6 Aug 2018
Reviewed by: Steve Bennett
Recent Reviews
What do you think?