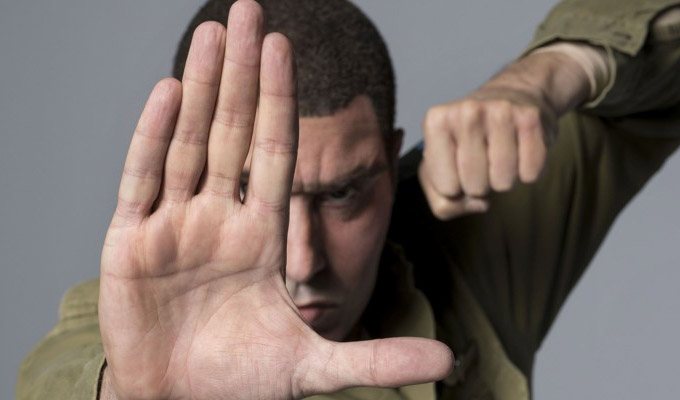 Sacha Baron Cohen: Who Is America?
Sacha Baron Cohen made his name by posing as an idiot and seeing how long politicians would indulge him.
But in the current American climate, there seem to be so many political idiots – starting in the White House – who seem to be seeing how long the electorate would indulge them.
So his surprise new programme, Who Is America?, seems to be a competition to see who can say the dumbest things, from either side of the political spectrum.
And in doing so, he owes a hefty debt to Brass Eye – which was 20 years ago, lest we forget what a pioneer Chris Morris was – in getting politicians to say moronic things from a script without engaging their brains.
Certainly that's true when persuading gun advocate Larry Pratt to explain the science behind an idea to arming children. Pratt says with a straight face that they are better at shooting weapons because they have extra levels of the 'pheromone Blink 182 released by a part of the liver called the Rita Ora' – and at that point you can only think of the classic Cake episode of Morris's meisterwerk.
This gun-control segment is the most pointed in the show as Baron Cohen's self-styled terrorism expert Colonel Erran Morad finds it surprisingly easy to gets gun rights advocates to agree with his 'Kinderguardians' proposal to arm children as young as three to combat mass shooters. Activist Philip Von Cleave even makes a cutesy video advertising a rocket-propelled grenade launcher for pre-schoolers and never appears to question what he's doing.
Of Baron Cohen's newest creation Dr Nira Cain-N'Degeocello has perhaps the closest modus operandi to Ali G: a hardcore liberal ('I'm a cisgender white heterosexual male, for which I apologise') whose extreme views test the politeness of the richest Republicans he could find, while reinforcing their every prejudice of the nuttiness every Clinton supporter secretly harbours to turn America into some hippy commune where menstruating women can 'free bleed' on to the Stars and Stripes.
What's interesting is how his characters play up to the stereotypes the other side would have. For example Dr Billy Wayne Ruddick, founder of fictional right-wing news site Truthbrary.org, teases Bernie Sanders with the sort of maths that the lamestream media are too scared to report and claims Obamacare made him ill.
The only issue is that real-life keyboard warriors peddle equally bonkers theories, so Baron Cohen's problem, which he struggles to overcome, is beating the insanity of these distant corners of opinion about which we're all alarmingly aware..
Luckily his sketches and interviews conceal some great jokes that slip past his victims. After telling Van Cleave he'd armed his own son, Col Morad lets slip that the toddler died, to the complete lack of concern of the gun-toter. 'He died doing what I loved,' Baron Cohen deadpanned.
Of all his targets in the first episode, the art gallery owner seems to play along with the premise advanced Baron Cohen's humble convict-turned artist Ricky Sherman, perhaps subtly making the point ordinary people can be more clued-up than the powerful, and certainly with a better sense of humour. Of course, though, that means this stunt doesn't have the same bite as the political segments.
Who Is America? won't change anyone's political views, but the outlandish proposals that America's leaders will sign up to, or believe their opponents to be capable of is a terrifying inditement of the state of politics. At least Baron Cohen has some good gags about a nation being torn apart by such divisions.
Review date: 16 Jul 2018
Reviewed by: Steve Bennett
Recent Reviews
What do you think?