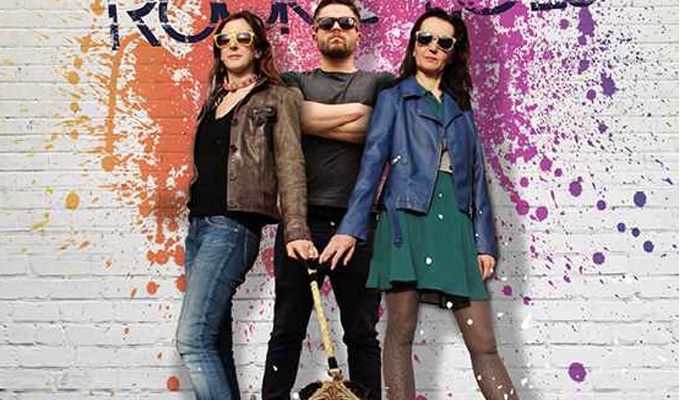 Sex & Pugs & Rock & LOLs
They are a little rough around the edges – and pug fans taken in by the marketing may be disappointed at the scant mention of the breed – but there's promise in the rookie comedians showing their wares in this Brighton Fringe three-hander.
Host Ben Carter is the epitome of punk: loud, aggressive and unpolished. He clambers into the audience to get into their faces and yells his songs at them. One of the numbers evokes that comic staple of being a stalker, though with his intensity, you believe him. The writing's not great, but the energy is electric.
There aren't the layers of underlying vulnerability that Nick Helm brings to his similar persona, with Carter playing up to the full-on, possibly unhinged, bloke forcing his personally on to the room. Yet for all the alpha posturing, he sometimes garbles his lines in a rush to get them out, an urgency that suggests an underlying uncertainty that the pugnacity hides. But as the real confidence grows to Match the fearless onstage bravado, he could be a force of nature.
Sarah Charsley, the pug owner of the trio – is almost certainly a product of a comedy course: she has the cadences and turns of phrase – 'a little bit about myself…' – that seemed to be drilled into new comedians by rote. The jokes structures are familiar and the routine fits a template, systematically going through facts about her life with a quip about each and a few callbacks to create structure, her favourite being to make the distinction that she's 'child-free' rather than 'childless'.
Yet within the strictures of the format she proves herself a nifty writer, with efficient jokes about such topics as her French partner, whilea rant about why she isn't a mother having almost poetic in its rhythms. And ultimately her sardonic attitude does show through the formula… all she needs do now is unlearn all the Bad Habits she picked up from her tutor.
Finally, Katherine Atkinson, a comedian so deadpan she makes Jack Dee look like Timmy Mallett. She affects a perma-sneer as venomous, bitter disdain drips from her pursed lips. It's something of a panto-villain performance as she play up her role as a lazy woman and terrible mother with nothing but contempt for humanity.
The unremitting scorn may need tempering for longer sets, but miseryguts Atkinson certainly demonstrates she can pen a harshly funny line to express her misanthropic outlook. Just don't expect her to smile…
Review date: 3 Jun 2018
Reviewed by: Steve Bennett
Reviewed at: Brighton Caxton Arms
Recent Reviews
What do you think?