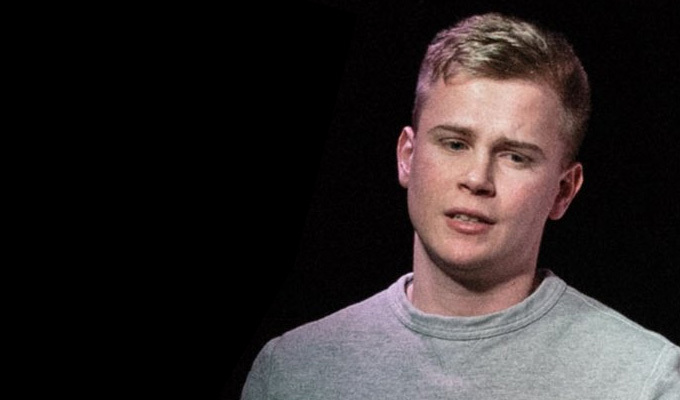 Mark Bittlestone: Pity Laughs
Mark Bittlestone came out as gay in 2014, but it still seems as if it's a novelty to him. His sexuality is the basis for almost all of his show, yet only ever addressed with all the nuance of a sniggering schoolboy.
Pretty much every punchline from the former Cambridge Footlighter involves spunk or arseholes or sucking someone off. From a straight comedian's mouth this could easily be considered homophobic, defining a gay man only by what he does in he bedroom, with the presumption it's utterly depraved.
Charitably, you could say he's spoofing simple-minded attitudes, but there's not much of a twist. Similarly, his argument that there are no gay footballers as they would be too busy planting flowers on the pitch (not to mention the fact that the players' tunnel would, of course, remind them of a gaping rectum) might be more obviously ironic, but it feels uninspired.
Bittlestone keeps on telling us how atypically gay he is because he likes football – as if the only options are wearing leather bondage kit 24/7 or being a mincing queen. Other comics such as Larry Dean or Paul Sinha have played with the notion of not fitting a gay archetype before, but Bittlestone does it so artlessly, without ever revealing any personal truths.
In Brighton, he's playing to a largely queer crowd and a good proportion go along with him – at least up to a point – so maybe it's not a straight critic's place to complain about the portrayal. But on a comic level it makes for a very one-note hour, when every gag ends up the jacksie.
Regardless of whether he's comfortable with his own sexuality, he's not especially comfortable with his material. He offers a running commentary on the show, pointing out bits that are 'interminably boring' or need cutting, many of which come in his over-long 'How gay are you?' quiz.
The asides about his performance and writing feel as if they come from a place of insecurity rather than a 'screw-you' confidence. And it begs the question that if he knows the material is poor why not fix it, rather than just try to ironically comment on it?
Another sign of his insecurity – or lack of content – is his frequent resort to lists, offering up a handful of variations on the same joke as if he can't pick one line as the funniest and stick with that. The prime example is the list of gags about Dumbledore being gay in the Harry Potter series, prompting a catalogue of what could charitably be called double entendres, though there is very little innuendo in them.
The Hogwarts section comes because the second, more minor, strand of Bittlestone's show is that at the relatively young age of 24, he's already been an orphan for a few years.
It'll come as no surprise that he's not mining this for tear-jerking sincere comedy, instead opting for lines that are deliberately glib or bleak. Even though laughing at tragedy is a perfectly valid response, the flippant material does not convince that he's found a way to process the situation.
Luckily he's a personable chap, the sort of comic and audience wants to warm to, with a cheeky charm that forgives some of the filth, if not its monotony.
Aside from a video mashup purporting to show him at an X-Factor audition that bookends the show – and is very possibly the funniest thing in it – Bittlestone ends on a set piece that swings from silly to aggressively angry, neither of which really seem convincing a man who otherwise comes across as winningly affable… even if his mind is rarely out of the gutter.
Review date: 24 May 2018
Reviewed by: Steve Bennett
Reviewed at: Brighton The Warren
Recent Reviews
What do you think?