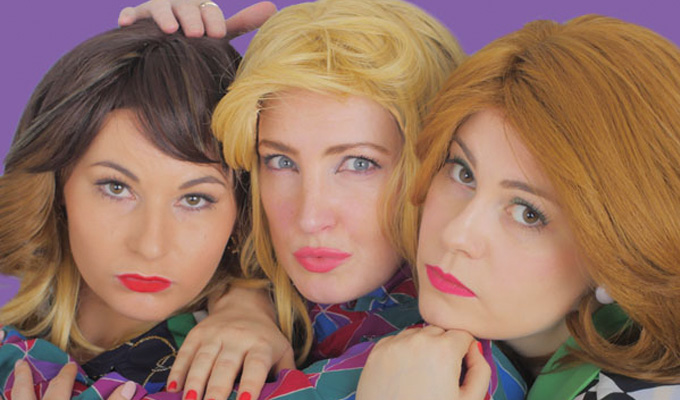 Northern Power Blouse: Up Your Promenade
Note: This review is from 2018
So, the pun on Northern Powerhouse that gives these three engaging performers their name doesn't really work. But don't be discouraged, as they are far better writers than suggested by such clunky wordplay – which is especially laboured given that their Northernness isn't an especially relevant label.
Their gender plays a more important role than geography, with some of their strongest sketches involving some savvy and pertinent feminist ideas.
The understanding catcalls that open the show are a witty reversal of the intimidating power-move, which leads into a silly expression of how a woman's visibility depends on what she looks like. Similarly, their suggestions of how to remake seaside tat as a social statement is a strong, silly idea.
A skit about hitting middle age prematurely clearly plays on their fears – and hits a strong chord with an audience who empathise – although a scene set in a budget waxing salon aims a lot lower, and seems needlessly cheap because of it.
But their shared gender is not overplayed – just as it wouldn't be if they were all men – though they could probably do with some more clearly defined identity to hold their sketches together. Missing is that sense of what would make a scene uniquely a Northern Power Blouse one. Nor do the performers, engaging as they are, project distinctive personalities; there's a feeling you could switch which roles they play without much effect.
A couple of entertaining musical numbers inject a note of variety, from what could be a full-on West End production about bargain shows in a down-at-heel town, to their showstopper, rewriting James Bond theme tunes from the point of view of his cleaning ladies. Such lyric-swap parodies are often the lowest form of wit, but embracing the silliness, while providing a reason, however flimsy, for these rewrites to exist, bolsters them.
The trio of Cassie Atkinson, Kat Butterfield and Charlotte Pearson can't quite shake off the inconsistency that affects almost every sketch outfit. Even in a 40-minute show, a few sketches could be tightened and given a stronger payoff, especially one about the inner monologue personified, which sounds like an auspicious premise but never delivers on that promise.
Overall, though, that's not a charge you could levy at these three, with their quirky outlook, ear for a good gag and charmingly foolish performances.
Review date: 23 May 2018
Reviewed by: Steve Bennett