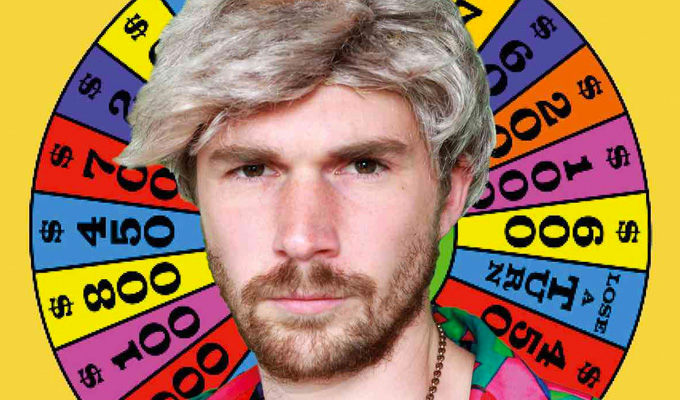 Henry Café: It's Gameshow Time
You can't be in any doubt it's gameshow time, and not just because every few minutes we have to offer the affirmation in answer to the call: 'What time is it?'
For this entire show is based on getting members of the audience to do silly things, such as racing through the venue with a Ferrero Rocher balanced on a spoon strapped to their head with the aim depositing them in the unflattering Y-fronts of a team-mate. Or another game which involves blowing water over each other, allegedly to replicate the task of artificially inseminating a rhinoceros.
It's all a bit Celebrity Juice. Or maybe a preschool party game time, with added nob jokes, many of which come in the interludes when we hide from a possible goblin on the loose.
Juvenile is the word, which is very much the point, and there's fun to be had if you like dancing around or making animal noises to win spot prizes such as a She-Wee. And Henry Café – Gaulier-trained, naturally – is a lively and enthusiastic rabble-rouser.
We're split into two teams under the leadership of Jennifer Lopez or JK Rowling (punters in cheap masks) to see which will become a UN goodwill ambassador. The winner gets to drink from the river of peace, so named because it sounds like 'piss' in Café's hard-to-place accent.
While many modern clowns such as Natalie Palamides put their interactional skills to create a cleverly structured show behind the improv, there is no greater purpose here other than to muck around. Writing is limited to low-level surrealism interspersed with the sort of half-puns that would shame a Christmas cracker factory. 'Why are cavemen so grumpy at breakfast? Because it's early, man.'
But if you're not allergic to such cheese and just want to play for an hour, this Café is well-stocked.
Review date: 21 May 2018
Reviewed by: Steve Bennett
Reviewed at: Brighton The Warren
Recent Reviews
What do you think?