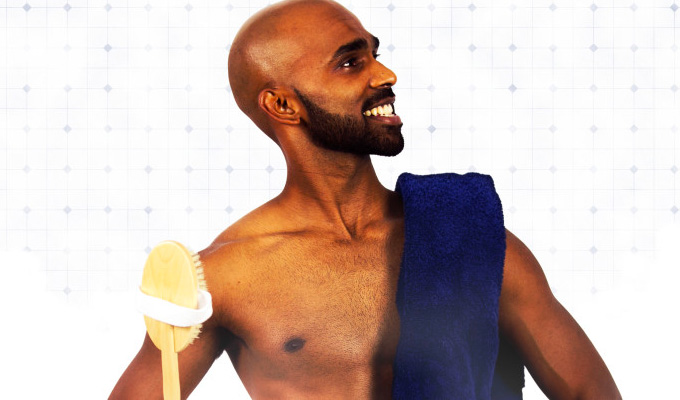 MICF – Ruven Govender: Ethnic Cleansing
Ruven Govender promises his show's going to 'make it rain with white guilt'. But, in fact, this animated performer is far too personable and upbeat to really confront the predominantly Anglo-Saxon crowd he has attracted, a brief section about colonial-era slavery aside.
He is an unremittingly engaging and enthusiastic presence – even if his constant survey-taking asking everyone where they were from begins to drag, as he constantly seeks validation for the next bit of material. And being the good Indian host his mother taught him to be, he even offers free samosas for all. Yummy, if something of a distraction as the plates get handed around.
Describing himself as ethnically ambiguous, often being mistaken for black, Govender grew up not in the subcontinent, but in South Africa and then, from the age of 12, in New Zealand.
Racial stereotypes are the bread and butter of his act, or should that be naan and ghee. But many of the jokes have previously been done better, and more succinctly before. Including on Goodness Gracious Me all those years ago, from the father claiming everything is somehow Indian to an unabashed take on 'going for an English'. Playing a literal race card is old hat, too.
He's just as likely to reinforce the clichés as debunk them. On one hand he may claim naan isn;'t a real Indian bread, although the way the idea plays out is over-stretched. On the other he asks, incredulously, what Africans would make of gyms, as if the whole continent were living in famine in their mud huts. He gets mileage, too, out of gently mocking his parents' accent – comedy 101 for any ethnic act – replacing the W sound with a V.
And that is the issue, for all his charm an confidence we've heard so much of this before. And the first-hand stories that he can claim to be uniquely his – such as an overly-involved routine about screwing up his visa to perform in Vietnam – tend to underwhelm.
He's such a likeable dynamo of a comic, he can win over audiences by personality alone. But many – me included – will also be hoping for more originality and substance to match his charisma.
Review date: 18 Apr 2018
Reviewed by: Steve Bennett
Reviewed at: Melbourne International Comedy Festival
Recent Reviews
What do you think?