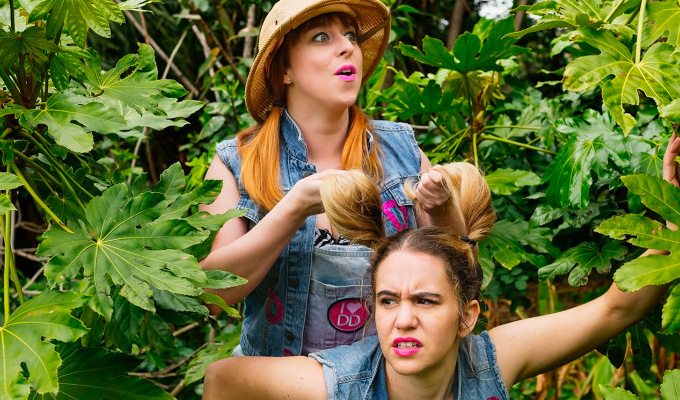 MICF: Michelle Brasier & Laura Frew: Double Denim Adventure Show
Nonsense ahoy! Comedy's daggiest duo, Double Denim, have produced another fabulously loose train wreck of a show. Or make that shipwreck, as the premise here is that best pals Michelle Brasier and Laura Frew have taken over a cruise ship, HMS Friendship, that subsequently sinks.
Now they're left to survive on a deserted jungle isl… look, it doesn't really matter. These are a pair who wilfully screw up plot points, since anything like narrative integrity would be anathema to their unruly sensibilities. So let's not get hung up on the finer points of this vague Lost parody that has plot holes you could pilot the Titanic through.
They manage to evoke a spirit of two immature women, friends since forever, dorking around for their own amusement with an easy chemistry and longstanding in-jokes. Yet they make us welcome into that clique of two. They trust the audience to attune to what they are doing, without pandering, and the rewards flow two-ways.
Both are very physical performers, using every centimetre of the odd space that is the backroom of the Bellevue bar – complete with spiral staircase to the fire exit in place of a real stage – crawling across any available surface in a deliberately awkward parody of sexy.
They dance, they pretend to be crabs, they dedicate an adorably absurd poem to Dwayne 'The Rock' Johnson, and even find a way to use Brazier's incredible voice, belting out Adele with all the passion of the original, but, wonderfully, absolutely none of the elegance.
We all play along, in the sort of low-risk audience participation that bonds rather than humiliates…for nothing we do could ever be as embarrassing as what these performers throw themselves into with no sense of being self-conscious.
Some sketches work as standalone surreal or slapstick skits – that poem, their impression of boys, a bizarre jungle kitchen staffed by weird serving ladies – so while there's clearly a script, the joy comes from simply sharing the chaotic presence of these high-spirited doofuses. Their dynamic is not the straightwoman and the comic nor of the dumb leading the dumber: it's a shared sense of childish idiocy that is hard to resist.
Review date: 18 Apr 2018
Reviewed by: Steve Bennett
Reviewed at: Melbourne International Comedy Festival
Recent Reviews
What do you think?