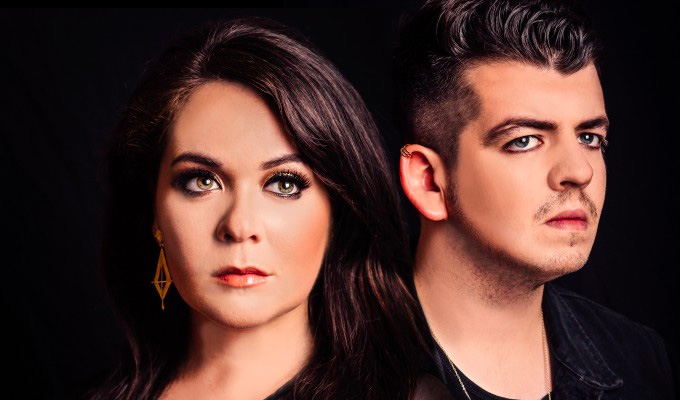 MICF – Laura Daniel X Joseph Moore: Two Hearts
We're in a half-empty back room in a trades union building – but Laura Daniel is performing with an energy, attitude and showmanship to rival Beyonce at Coachella.
She is the raunchy, high-kicking powerhouse frontwoman of new comedy pop duo Two Hearts, leaving poor partner Joseph Moore as the Andrew Ridgeley figure, largely left behind his laptop as he plays the prerecorded beats.
This feels like a major gig, despite what the modest surroundings suggest.They've given the performance an overdose of sparkle, spectacle and hype that's impossible to resist, and with an expense on tech that they cannot hope to recoup.
The Kiwi comics wryly note the lavish touches, part of a constant meta-commentary on the gig, such as suggesting they have turned to pop as 'music is so much easier than comedy'. Both comics revel in the frothiness of the genre, their attempts to show how woke they are on topics such as feminism doomed to be glib. They are the well-intentioned but egotistical voice of the millennial generation.
Two Hearts have some great songs: the irony-laced Up To? suggests a barely literate booty text is up there with Shakespeare, while a melodramatic ballad is haunted by the ghost of Alan Rickman. Yet others are one-joke affairs padded out to the three-minute length of a single.
There's inconsistency, too, in the relationship between the pair, a foundation of unrequited love dismissed in a pat song, only to be resumed again. And the shallow take on major issues is rather overplayed.
Yet it's easy to get swept up in their extravagant and energetic grandstanding, with a well-choreographed performance and stupidly over-ambitious production values they mostly manage to pull off. Daniel, especially is a force of nature keeping the show buoyant on pure sass – a full-on commitment to hedonistic party comedy to rival the likes of Aunty Donna. Iron out some of the kinks and they could become festival favourites – or even chart-toppers.
Review date: 18 Apr 2018
Reviewed by: Steve Bennett
Reviewed at: Melbourne International Comedy Festival
Recent Reviews
What do you think?