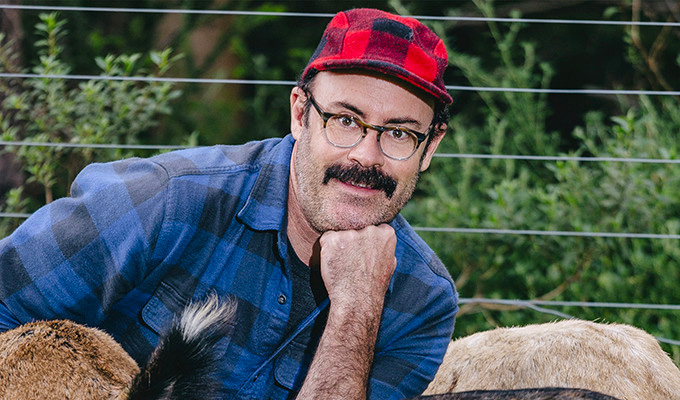 MICF: Sam Simmons - Radical Women of Latin American Art, 1960-1985
'You're under the impression I'm doing this for you!' Sam Simmons states, confrontingly. Indeed, his latest brain dump is often a challenging ride – not least when he's savaging members of the audience with some brutal, entirely undeserved, insults designed to intimidate.
It's an abusive relationship, him and his fans. Simmons doesn't seem to like his paying punters very much, constantly berating us for a response he considers inadequate, or imploring: 'What do you people want?' Not that he would ever bow to the demands of the people; this is most definitely a dictatorship.
As always, his show is an erratic collection of strange, absurd one-man sketches, relentlessly driving forward. This time each is introduced by a voiceover intoning: 'This is an impression of…' the convoluted esoteric titles sometimes longer and funnier than the skits themselves. The unwavering format becomes grinding, entirely in spirit with the authoritarian vibe, even when the sections amuse.
And for their oddness, they are frequently based on real-life observations. Even the title, Radical Women of Latin American Art, 1960-1985, is a real exhibition he visited in Los Angeles, where he now lives, and where the opening story – which he admits will be disappointing - takes place.
Elsewhere, he describes an encounter with an aboriginal shop worker, enjoying the room's discomfort every time he mentions her ethnicity. It's not the only one of his that scenes involve national stereotype, increasing his flirtation with racial discomfort.
Such tension, of course, is ripe for puncturing, and plenty of the scenes provide the funny to do this. Weirdly funny, for sure, but still funny, even if the scattershot approach is almost inevitably inconsistent.
He tells of special supermarkets for famous people, evokes the forgotten childhood myth of Pitti Pepperneck and accurately depicts a man so threatened by the idea of homosexuality he cannot bring himself to even utter a French word, a savvy jibe at toxic masculinity. But not everything aims to make such sense, Simmons loving to revel in oddity for its own sake.
The petulant comic deploys a few structural tricks, too, to give a select few of his skits some belated context, and ultimately bring all the madness back to that Californian art exhibition in a bid to fix the knowingly unsatisfying opening anecdote. Job done, even if it's probably not the only scene that needs some work.
Perhaps more than any recent Simmons show, you have to strap in for the ride and take the rough with the smooth, the killer scenes that will hit your funnybones with those you have to accept are just for his own amusement.
Review date: 4 Apr 2018
Reviewed by: Steve Bennett
Recent Reviews
What do you think?