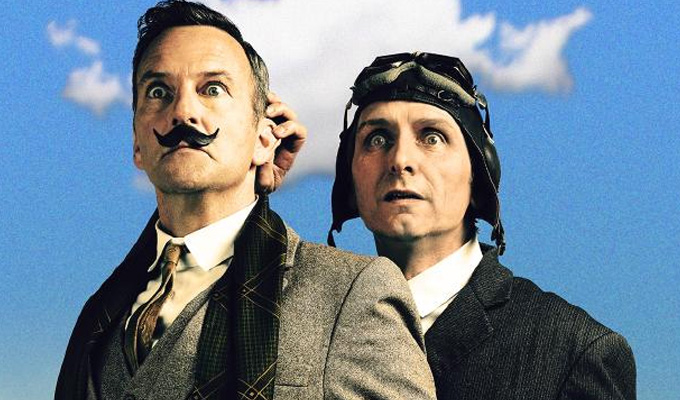 MICF: Lano & Woodley - Fly
It's been 12 years since Lano and Woodley last performed a show together; an absence that's made the audience's heart grow fonder given the palpable love for the pair when they first take to the Melbourne stage together.
But in many ways, it almost feels like they've never been away. Their timing, their instinctual chemistry and their love-hate relationship is as strong as ever. Frank Woodley is still the mischievous, playful, child-like idiot trying to undermine the nominal adult, Colin Lane, as he tries to go about his serious business. In this case, performing a serious and beautiful (and wilfully not entertaining) piece of art about The Wright Brothers.
It's a dynamic as old as time – or at least Laurel and Hardy – but Lano and Woodley have mastered the winning formula. A sibling-like affection underpins their constant bickering, which seems so natural it's hard to know where the script ends and their ad-libbing begins. Yet they never let their mucking about become self-indulgent, rationing it so it brings an appealing fluidity to the tight writing that underpins everything, but never overwhelms it.
Sometimes their squabbles have an air of children's TV presenter about them, but just when that becomes a risk they'll get sweary, or more aggressively riled, to add extra punch. They know how to spring a surprise, too, with surprises to wrong-foot you.
Their sprightly physically – especially Woodley's – emphasise every gag. A routine about goose-stepping, which would be quality stand-up in itself, is made unforgettable with Frank's strutting. The pair excel in verbal acrobatics, too, the repetition of Jeff Goldblum's surname quickly becomes hilariously absurd.
Throw in joyous wordplay, a couple of bits of slapstick, songs, props, and the stage effects a big theatre offers you, and you have something for everyone with a narrative that careers between Frankenstein, The Lion King, The Fly and more: an update on the variety offered by the music halls of the era of the Wright Brothers themselves.
And like the pioneers' early gliders, this knockabout show is all about having a sturdy framework. For all the apparent mucking about, every daft scene has a place in a grander architecture.
Lano and Woodley describe their own show as 'stupid, silly, nonsense' – and celebrate it as such, inviting the audience in on their joy. And rarely is nonsense done so well, surely making Fly the soaraway feelgood hit of this festival.
Review date: 4 Apr 2018
Reviewed by: Steve Bennett
Reviewed at: Melbourne International Comedy Festival
Recent Reviews
What do you think?