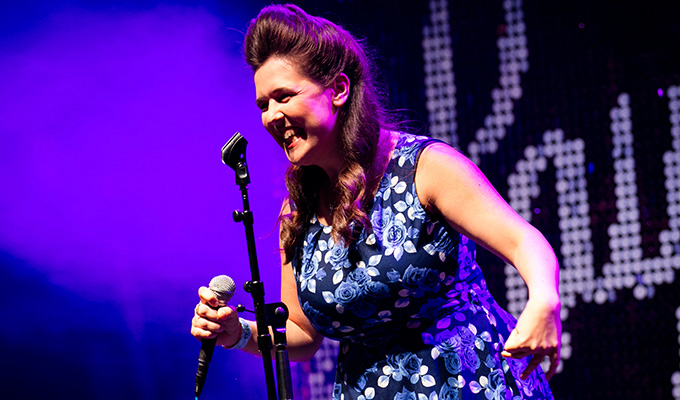 So I'm Single...
Lemon Comedy pride themselves on being the 'most inclusive' promoters going. So in the name of making sure no one feels left out, they staged a Valentine's show that welcomes the unattached.
Its title, So I'm Single…, of course echoes the familiar stand-up set-up, normally from a male comic wanting to cash in the on-stage charisma for a post-gig shag. Here host Maria Shehata not only elicited sympathy for revealing her break-up came when engaged, but blatantly begged for dates, under the excuse that it's what her Egyptian parents would want.
She has a slick American style – no surprise as that's where she's from – and made a virtue of the embarrassment she caused by chatting to a couple in the front row on something of a Schrodinger's night out: simultaneous both a date and not a date.
The show incorporated a couple of filmed sketches amid the live work, to mixed effect. The short that opened the first half, from Taylor Trash, certainly earned laughter of recognition, highlighting a fashion faux pas that caused almost universal distain.
First act up was Nigel Ng, saying he felt out of place as a married man on this bill, before launching into some crowd-pleasing, if unsophisticated, material about vibrators. Much classier were his observations about sushi… though how we somehow got from one to the other shows a skill for the segue, for sure.
Rosie Jones was probably the hit of the night with her mischievous way of puncturing the audience's natural wariness about laughing at the disabled woman. Given the theme of the night she also revealed her sexual fantasy, which involves Ryan Gosling but – true to her tricksy form – not in the way you might expect. Her slow speech draws the listener in, all the better to be metaphorically punched at close range by her payoffs, and the newer material shows there's more in her arsenal than gags about her cerebral palsy.
Opening the second half was a video from the Lemon crew themselves: an over-long affair about ghosting based on one joke and some very familiar observations. It was rather unfortunate for the next act, Lola and Jo, since their first sketch was about the very same thing, including the heartbreak of seeing the tantalising dots of a message being composed, only for nothing to appear. But the duo perform with vim, which especially enlivened their second scene, recapping an extravagant hen weekend which took a series of unlikely, and surprising turns. Their characters were credible – even if the story wasn't – and unfolded at a nice pace that drew out the laughs.
Finally, Ahih Shah instantly winning the prize for cockiest, high-status opening by simply announcing himself as a stand-up and saying: 'I'm good at it' – then comparing himself to an actual Renaissance master. And actually, it's hard to disagree (at least with the first bit) as rattled out some punchy gags before holding the audience rapt with a tale of holiday romance. He has such presence that he could dedicate the entire second half of his set to the 'greatest story ever told' that still held the room, even if it was light on laughs. It was, however, high on sincerity and always fascinating. Shah said it was the first time he'd relayed this tale on stage, which makes it all the stronger testimony to his storytelling skills – as well as being a suitably romantic end to the evening.
Here are the films they screened:
Review date: 15 Feb 2018
Reviewed by: Steve Bennett
Reviewed at: The Bill Murray
What do you think?