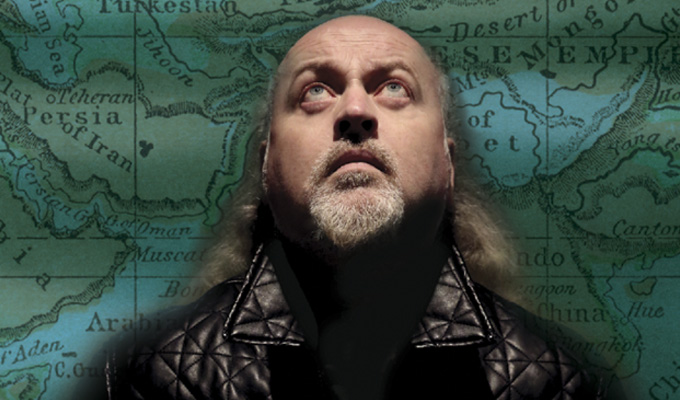 Bill Bailey: Larks In Transit
No one would accuse Bill Bailey of being too slick; nor would he ever want to be seen that way,
His circuitous non-jokes, subverting the formula through surrealism, are a well-established part of his shtick, and he gets further big laughs from things going wrong, whether it's screwing up a cue, breaking his Swanee whistle or forgetting the words to the folk-rock epic he wrote based around an iPhone alarm tone. It's all shrugged off with the cheery resignation of a man who knows these things happen, and isn't about to start fighting fate.
He lives up to his familiar image of the slightly bumbling, perennially affable cove, by reminding us that he's patron of the Barn Owl Trust, a correspondent for Saga magazine and once appeared in Midsomer Murders. Trouble is not his middle name (it's Robert).
While amiable, engaging and amused by the world, his low-status West Country demeanour is a Trojan horse for some sharply withering lines. His florid descriptions of politicians, especially, makes him a verbal caricaturist, evoking images that are patently absurd yet capture an essential truth about their targets.
But for all he gently mocks himself as a long-haired, beard, left-wing comedian, satire is not his knapsack, which is a shame as he dances around Brexit pretty nimbly, combining it with an assessment of the British psyche as a mix of nationalistic pride, reckless stupidity and – crucially – never taking itself too seriously. He could say more about the folly he clearly believes the nation is embarking upon, but maybe Southend-on-Sea (Leave majority: 15,000) isn't the place to do it.
Instead, this is just one strand of many in a selection pack of comedy treats, which is never less than highly entertaining, even if it might fall short of being the substantial meal some of his more philosophical musings suggest he's toying with.
From the beginning, Bailey sets up the show in a cod-professorial way, chomping on his pipe and asking his audience about the origin of days of the week, right up the street of fans who love him on QI.
The Larks In Transit title refers to his stories from his globetrotting adventures making wildlife documentaries. His backdrop is a giant circular antique-style map centred on Tibet – it'll look great on the DVD – and we zip through Brazil, Estonia, Indonesia and, erm, Northumberland where he's either bugged by fans or saddled with locals who set him up for disappointment, which of course is the default setting of almost every Englishman.
Elsewhere there are jokes about falconry – of course there are, that's the perfect Bill Bailey subject matter – and the 991AD Battle of Maldon in which Earl Byrhtnoth and his thegns were defeated by invading Vikings. You might think that is totally original thought… but in a sign of how almost nothing is virgin territory in comedy now, Daniel Nils Roberts dedicated a whole Edinburgh show to the skirmish last year.
Genre-defying mash-ups are, of course, all present and correct. That iPhone remix doesn't quite have the impact of some of his earlier, similar efforts – perhaps because the original ringtone is more obscure – but the Tom Waits version of Old Macdonald Had A Farm is a gem, not least for the inventive ways Bailey comes to E-I-E-I-O. And he encores on a crowd-pleasing musical medley that includes his party pieces of a classic-rock medley played on the bells, and a foot-stomping Irish reel.
What larks, indeed!
• Bill Bailey's Larks In Transit is on tour until June. Click here for dates.
Review date: 6 Feb 2018
Reviewed by: Steve Bennett
Reviewed at: Southend Cliffs Pavilion
Recent Reviews
What do you think?