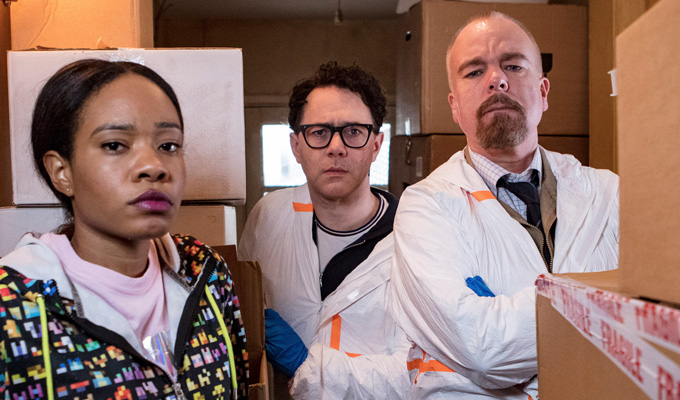 Inside No 9: Tempting Fate
As always, we've avoided any major spoilers here, but some minor revelations are inevitable, and you might prefer to watch the episode first…
Die-hard fans of Inside No 9 will already know that every episode features somewhere in the background a small silver hare, a little treat for the eagle-eyed and something extra to link the stories.
Well, the ornament takes centre stage in the final instalment of series four, which offers a satisfying explanation as to why the talisman is such a harbinger of doom.
Tempting Fate revolves around three council workers – Keith, Nick and Maz – who are sent to clean up the flat of hoarder Frank Meggins, after he died in squalor. Though of course there is more to it than that…
Steve Pemberton and Reece Shearsmith are often described as 'dark', and this tale lives up to that billing both literally and figuratively, taking place in the gloom of the smelly, poorly-lit home, boxes piled up everywhere. It's no surprise that the first thing they discover is a dead rat.
It's nothing but a minor inconvenience for Shearsmith's Nick, an old hand at this job, but rookie Maz is more than a little freaked out. In a calling-card performance from the relatively unknown Weruche Opia, Maz provides much of the comedy, thanks to her malapropisms and bewilderment at many of Keith and Nick's references from the 1980s, as well as driving the drama.
But the banter stops when they discover the hare and its alleged powers, which have a tendency to end in misery for those who try to use them. But are dire warnings of terrible consequences enough to overcome the irresistible forces of greed and desire?
As students of supernatural thrillers, Pemberton and Shearsmith know all the tropes of the genre, and skilfully tread a line between using and subverting them to tell an absorbing, spooky story, always one step ahead of the audience. If you think you've spotted a plot loophole, you haven't. The script should be used in screenwriting lessons, so taut is the writing, with not one unnecessary detail or word out of place.
After their rather in-jokey satire on TV awards last week (albeit with a twist in the tale), Tempting Fate is a return to what this brilliant anthology does so well: mixing underplayed black humour with a compelling tale. Season 4 has been a special triumph even by Inside No 9's normal high standards, and it bows out with a bang.
• Inside No 9: Tempting Fate is on BBC Two at 10pm tomorrow.
Review date: 5 Feb 2018
Reviewed by:
Recent Reviews
What do you think?