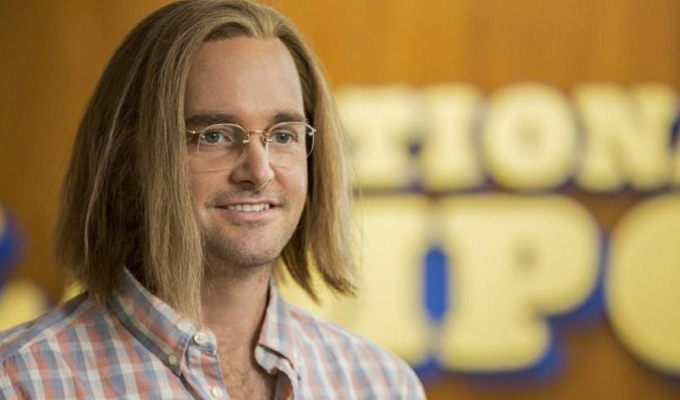 A Futile And Stupid Gesture
National Lampoon is something of a footnote in comedy history, known best as a film franchise with a now-debased reputation. Its founders Doug Kenney, Henry Beard and Robert Hoffman as good as forgotten.
But A Futile And Stupid Gesture makes a strong case for why that's unfair, and does a good job at redressing the balance.
This is a biopic of the mercurial, rebellious Kenney – played by far-too-old-but-what-the-hell Will Forte with the required mix of charisma and assholery – and realised with as much anarchic high spirits as the man himself, showing an apt disrespect for some of the conventions of the genre.
Scenes of playful mischief and hedonistic excess are certainly performed with a vigour worthy of Animal House, the biggest of the Lampoon films, while there are plenty of knowing nods to the camera, usually courtesy of Martin Mull, who plays an older fictional version of Kenney looking back on his life. One scene, for instance, includes a fast-scrolling list of all the liberties the script took with the facts… which of course can be conveniently paused on Netflix.
Like many anti-establishment figures of the early 1970s, Kenney, Beard (played by Domhnall Gleeson) and Hoffman (not in this movie), come from the establishment themselves. Promising Harvard undergraduates, they become involved in the long-established satirical college magazine The Lampoon. They have so much fun doing it that when it comes time to graduate, they decide they'd like to make it their job, and secure the unlikely backing of the small-time publishers of Weight Watchers magazine to launch a national version.
They recruit a team of writers and comics – Matt Lucas making hay in his brief cameo role as British stand-up Tony Hendra, who'd been in Footlights with John Cleese – and live like a cross between the Wolves of Wall Street and Mad Men. Working hard, playing harder, treating the women in their lives like shit…
National Lampoon bottled the irreverent, countercultural wind sweeping through America, outraging the squares of the past. And anyone who's a fan of outré early 1970s fashion will be in brown-and-orange heaven here.
Kenney is brilliantly funny at work, a dreadful husband in the very few moments he's away from it. And for his many failings, in real life he was a one-man anecdote generator, giving plenty of memorable scenes over the film: hiring kids to play a baseball match on his behalf; getting sued by every corporation going; drunkenly slagging off his own film at at he Caddyshack premiere, and many more besides.
On the back of the magazine's success, he launches a radio venture, bringing him in contact with a new wave of comedy talent: Gilda Radner, Bill Murray, Christopher Guest, John Belushi, Harold Ramis and Chevy Chase – who, as played by Joel McHale, is definitely not shown as good influence.
Yet Lorne Michaels makes the TV show he should have made, Saturday Night Live, and although Kenney makes splash in Hollywood with Animal House, the follow-up, Caddyshack, has its thunder stolen by Airplane! like a gopher stealing a golfball.
Inevitably his demons, and superhuman cocaine intake, get the better of him, and the final act is the expected spiral downwards. Eventually the wild invention of the films earlier scenes falter as his destructive behaviour magnifies, in perfect parallel to how Kenney burnt brightly, then out.
A Futile And Stupid Gesture is a tribute that might put Kenney back on the comedy map, and is fittingly a rule-breaking, funny, crazy, fast-paced romp, that's just occasionally infuriating, too.
• A Futile And Stupid Gesture is now available on Netflix. Watch here.
Review date: 2 Feb 2018
Reviewed by:
Recent Reviews
What do you think?