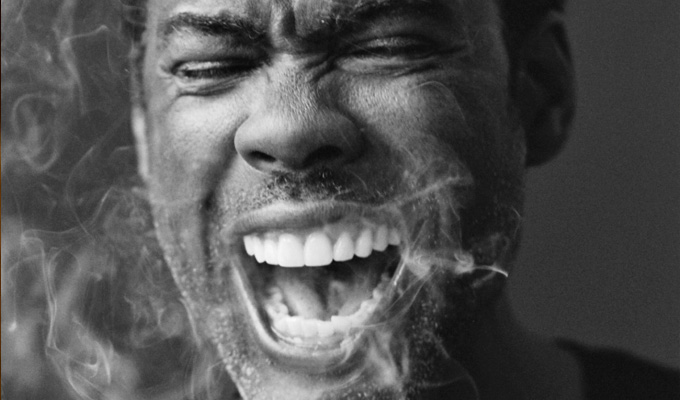 Chris Rock: Total Blackout
At the end of his Total Blackout show, Chris Rock takes his bow to a montage of adored – and deceased – comedy heroes including George Carlin, Joan Rivers and Robin Williams. It is intended as a tribute, but also a reminder that Rock is worthy of his place in their league, with his 1990s specials Bring The Pain and Bigger And Blacker establishing him as the most exciting, provocative and most insightful voice in comedy, especially when it came to matters of race.
But it's been the best part of a decade years since he toured… and the imperative for his return could be as much financial as artistic, given that it followed an expensive divorce from his wife of 18 years. The reported $40million Netflix deal will sure come in handy.
Has the time away, making films like Madagascar and Grown Ups, dulled him? Yes, a bit. Now in his 50s, he doesn't have the burning relevance of his breakthroughs. He seems behind society's curve, not ahead of it, when he talks of relationships in which the man is always the provider and the woman stays home, looking after the decor and maybe having affairs. Men have to schedule such extramarital affairs at night – much more tricky.
Rock might know a bit about that, since his marriage collapsed after he had three flings. He thinks the number's low, since there was more opportunity – but offers that as a matter of fact more than mitigation. There's honesty in his admission of the affairs and his porn addiction, and in how he describes his torment during the battle for custody of his two teenage daughters.
Divorce certainly seems to have put him through the mill a bit – you can forgive the jaded edge to some of the material, though he eventually emerges defiant, leading the charge for relationship harmony with the unlikely rallying cry: 'Tambourine, motherfucker, tambourine!'
However, the honest, bitter-sweet routines aren't best-suited to arena comedy, especially given the moral ambiguity as to whose side we're supposed to be on, and the laughs are sometimes uneven as Rock tries to wrangle messy real-life into the certainties he usually prefers in his comedy. But kudos for seeking to reflect on the complex and the personal.
Get Rock on race, though, and he's as potent as ever, with an early section about the deaths of black kids at the hands of police, biting and darkly funny. His rejoinder to the pat response about 'a few bad apples' conclusively nails the issue.
Rock hasn't quite got the definitive take on other hot-button issues. With topics such as America's gun lobby, religion, the fact kids aren't all special and need a bit of bullying to spur them on, and even airport security, he's on similar ground to a lot of other socially aware comics – which is most of them.
But Rock is undeniably very good at his job, and he sells each point with those familiar strained vowels and punchy cadence. He's unstoppable even when he messes up a local reference - pretending he'd spent time in 'Beckham' when he wanted to evoke a poor neighbourhood (presumably Peckham). The impetus he gives every line pulls the thousands of people in the room with him.
The irony of Rock complaining about airport security won't be lost on those who spent half an hour queuing to get in through the Wembley Arena metal detectors and desks where you had to lock your phone in a pouch. But apart from the delays getting in, this is a good idea, enforcing people to immerse themselves in the experience they paid for, eliminating distractions all round – as well as addressing the issue of unsanctioned videos of gigs emerging on the internet.
Review date: 29 Jan 2018
Reviewed by: Steve Bennett
Reviewed at: SSE Arena Wembley
Recent Reviews
What do you think?