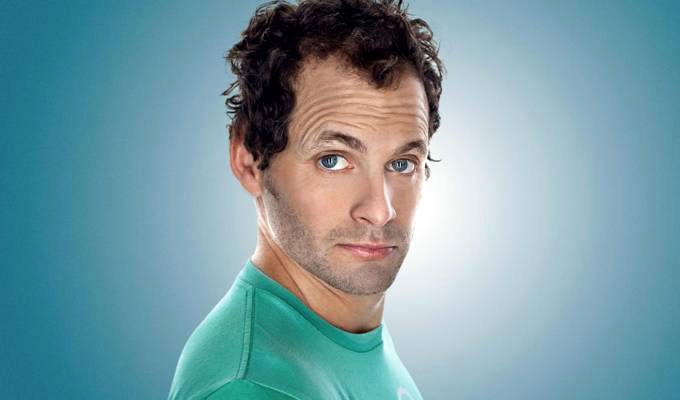 Nik Rabinowitz at Leicester Square Theatre
Nik Rabinowitz flew in from South Africa for this gig – but his material didn't travel half as well.
His show is almost entirely based on him adopting various of his homeland's 11 official language, from the clicks of Xhosa to the always aggressive-sounding Afrikaans.
He is excellent at accents and voices and the result is an onslaught of emphatic, rhythmic noise. But it's little more than that, especially when he slips into a non-English language for a sentence or too, leaving those monolinguists among us high and dry.
The largely South African crowd – and he nearly filled the 400-seat Leicester Square Theatre on the first of three performances – lap it up. The reminders of home, such as mentions of the traffic conditions on a specific Cape Town highway or of local singer Steve Hofmeyr, seem very welcome to the crowd.
But it's not just specific references, so much of the show depends on an instinctual knowledge of South African culture, especially its complex racial intricacies.
Former game show host Rabinowitz always performs loudly and with supercharged energy, from squawking like a hadada bird to mimicking the intensity of Nelson Mandela's hype man.
But it too often feels like the soundings of an empty vessel. Even on the topic of more universal topics, like being the father of a young child or having a vasectomy, it's a triumph of delivery over content.
There are some contrived callbacks, and stereotypical jokes, such as saying the Maccabiah Games, often billed as the Jewish Olympics, 'is more like the Special Olympics but with more accountants'.
Rabinowitz, as the name gives away, is Jewish himself, and there's a reasonable story about him being accused of anti-semitism at school, as well as another entertaining vignette as he recalls a dumb viewer calling in to the Coca-Cola Megamillions Gameshow which he fronted.
But for the man who bills himself as South Africa's No1 comedian, it's thin pickings on a show with a lacklustre script, however much energy he pumps into delivering. I'd have preferred more from droll opening act Mark Maier….
• Nik Rabinowitz is back at the Leicester Square Theatre on Sunday and Tuesday.
Review date: 1 Dec 2017
Reviewed by:
Recent Reviews
What do you think?