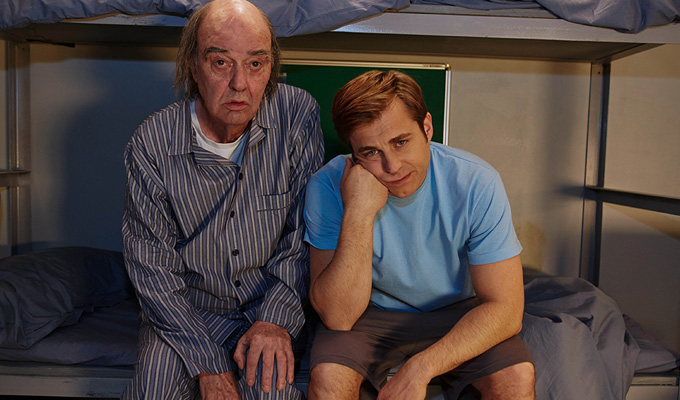 Porridge: The Go-Between
The BBC surprised almost everyone last year when it remade Porridge – and it wasn't a disaster. Unlike, say, the dismal reboot of Are You Being Served? that aired as part of the same season.
So given the desperate need to find hit mainstream comedy hits, it's little surprise that it was commissioned for a full run, which starts tonight and is very much in the same vein as the pilot. Which is to say uncannily close to the original.
Aside from a few modern references, Dick Clement and Ian La Frenais's script could almost have come from the Ronnie Barker era, which is high praise, but comes with problems. The ghost of the past is never properly laid to rest, so it's hard to see this Porridge on its own terms – by which measure it'd be a sold new sitcom– rather than a slightly inferior version of the original
In episode one, Fletch is lending a hand to fellow inmates by dealing with their correspondence, helping maintain relationships and aid criminal appeals – all for a fee, of course – which you could certainly see the older Fletch doing.
Even prison guards Meekie (an enjoyably grim-faced Mark Bonnar) and Braithwaite (Dominic Coleman) are clones of the Fulton Mackay's fearsome, humourless Mr MacKay and Brian Wilde's soft-touch Barrowclough. But if the dynamic ain't broke, don't fix it.
That said, the key relationship of the show is changed. While Barker's Fletch was the wise old lag handing down wisdom to Richard Beckinsale's naive cellmate Godber, Kevin Bishop's version, the grandson of the original, is the younger partner in crime. He's still savvy about the ways of the nick, but isn't beyond being set right by the doleful old lag Lotterby, endearingly played by Dave Hill. Bishop, too, makes for a credible, and very watchable, rough diamond at the centre of it all.
Without the scene-setting that slowed down the pilot, the opening episode of the new series is a pretty tight slice of sitcom jeopardy, with nifty gags along the way. The new Porridge certainly feels comfortable and familiar, but also does enough not to be a shameless counterfeit, even if it clearly exists in the shadow of its forebear.
Review date: 6 Oct 2017
Reviewed by:
Recent Reviews
What do you think?