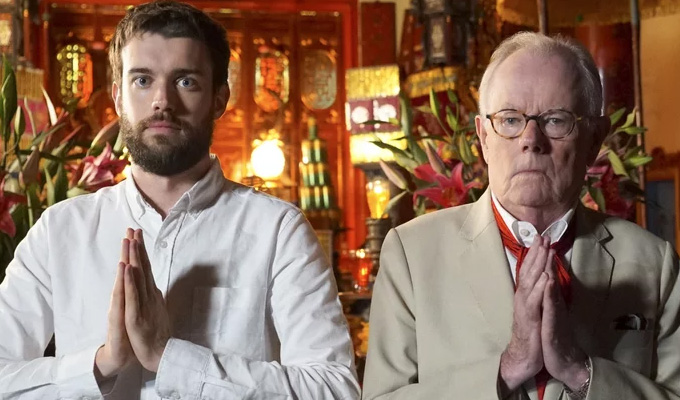 Jack Whitehall: Travels With My Father
Featuring yet another comedian hitting the road with a parent, there's little surprise in Jack Whitehall's Travels With My Father – especially since the relationship between the comedian and his curmudgeonly dad Michael has already been well-established.
But The Odd Couple dynamic still provides plenty to entertain in the just-landed Netflix series, as Whitehall Jr tries to have the gap year he missed out on because he plunged straight into his stand-up career.
So his aim is to have the full backpacking experience, rocking up with a massive rucksack, metal crockery handing from every strap. He professes to seek real Thai culture – though whether he'd find that in the Khao San Road, 'the centre of the backpacking universe', where he'd booked them both into a hostel along with other Western youngsters who swarm to this place, is debatable.
Jack is full of a youthful, optimistic spirit of adventure, with his eye on beach parties and 'getting lashed' with the 'odd cheeky temple' on the way as a sop to his 76-year-old dad
Michael is, of course, less keen. 'A trip over Putney Bridge is quite an excursion,' he admits before they leave London. 'What the fuck am I doing going to Thailand?'
And when he gets there he behaves as if he were an Evelyn Waugh character at the height of Empire – always in suit and tie and demanding the finest accommodation and a good old lamb chop, none of your foreign muck.
He genuinely packs his Garrick Club tie, just in case he meets an ambassador, while being reluctant to take a pair of beach shoes. Or at least as genuinely as a TV travelogue ever is; Michael, the old showbiz pro an ex-agent, certainly knows how to live up to a stereotype.
The defining shots of this series are Jack imploring: 'Daddy! Come on!' as grumpy Michael sits with a face like a smacked arse.
Speaking of which, this first of six episodes has the Whitehalls visit face-slapping therapist with both generations trying not to crack up amid gleefully childish quips about 'slappers'. In this regard, Michael is much more successful. And it's nice to see the guy who did the sound effects for 70s kung-fu movies getting more work putting some unrealistic impact noises into this scene…
With its high-society followers, elephant polo is more up Whitehall Sr's street – although having Jack take part, haplessly, of course, could well have been a segment out of A League Of Their Own.
That might underline the fact we've seen so many shows like this before, but Michael's intransigence and Jack's baiting of his dyed-in-the-wool views make for plenty of funny moments.
• All six episodes of Jack Whitehall: Travels With My Father – in which they also travelled to Vietnam and Cambodia – dropped on Netflix today,
Review date: 22 Sep 2017
Reviewed by:
What do you think?