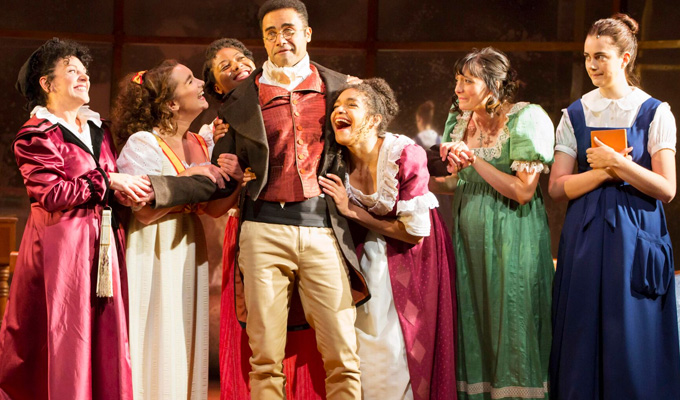 Pride and Prejudice
There have been a lot of adaptations of Pride And Prejudice - but all, bar one 1935 stage production – have been written by men. Step forward, then, Sara Pascoe, not only to draw more comedy out of Jane Austen's witty classic, but also put a modern, feminist spin on it.
In the new production at the Nottingham Playhouse, she makes very explicit the pressures on Mrs Bennet to marry off her five daughters, who have no property rights in Regency England. They had to marry – and be virtually owned by a husband – to avoid poverty. They certainly couldn't work for a living, heaven forfend! From this perspective, the romcom loses a lot of its romance.
Pascoe applies her 21st century sense and sensibilities to the story by having contemporary commentators interrupt to explain, whether it's a schoolteacher considering the heteronormative nature of the novel, a couple of video editors working on a film of the story, or the director of this very play, discussing the characters' situations with the cast. At one point all the Bennets even burst into song (one of several numbers composed by Emmy the Great) about their plight and calling for understanding.
It's a little heavy-handed, assuming we have to be so explicitly told the desperate circumstances women of the time found themselves in, as if it couldn't come through from the story itself. But the analysis is where Pascoe gets to show her undeniable comic flair, so these interruptions are certainly funny, if arguably unnecessary.
As well as the jump-cuts between past and present, the tone of the Pride & Prejudice story itself is uncertain, too. The performances initially seem a little wooden and declamatory, even for the emotionally repressed times, although many of the cast relax into their roles as the play goes on and the meta-commentary imposes itself more confidently.
The turning point seems to come with the introduction of Matthew Romain as the clergyman Mr Collins, who stands to inherit Mr. Bennet's property. He's a fine comic turn, marvellously unselfaware as to how dull he is, and flabbergasted that Elizabeth dare turn down his hand in marriage.
Kerry Peers proved another highlight, not just as the frantic Mrs Bennet, but also channelling Dame Maggie Smith as the imperious Lady Catherine de Bourgh and cheerily explaining the plot as the modern-day director – as well as displaying a fine singing voice. And in her professional stage debut, Rachel Partington brought a fine touch of surrealism as away-with-the-fairies Mary, with her odd interruptions and obsession with envelopes.
However Matt Whitchurch's Darcy wasn't the smouldering leading man we've come to expect, but then Pascoe's interpretation is to downplay the seductive potency of the menfolk. As Elizabeth,Bethan Mary-James has to carry a lot of the story, which she does more than competently, but less than brilliantly,
The set itself, though dramatic, seemed sterile and ill-effective, with Carla Goodman's design having the cast all-too-literally in a gilded cage, while it also doesn't quite seem as if director Susannah Tresilian hasn't quite decided what this version Pride & Prejudice is meant to be.
It's certainly not a faithful retelling, but nor is completely a play-within-a-play commentary. Nor is it a musical, with the songs that don't really add much other than jauntiness (though the incidental music is much more on-point)
Yet the team have done well in drawing comedy out of several aspects of Austen's novel, and Pascoe's added asides are as hilarious, driven by her anger at the lot of women of the period as little more than property. So it's a funny old version of the meandering story in both senses of the word.
• Pride and Prejudice is on at the Nottingham Playhouse until September 30
Review date: 20 Sep 2017
Reviewed by: Steve Bennett
Reviewed at: Nottingham Playhouse
What do you think?