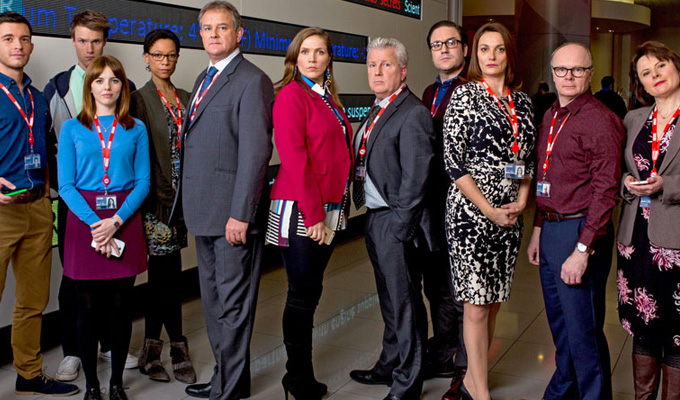 W1A series three
There are moments in W1A that are almost too agonising to watch. The circuitous meetings of the BBC's directionless yet ironically named Way Ahead group so accurately replicate the prevarications of real corporate life that you can feel the knuckle-gnawing frustration from your own sofa.
As the series returns tonight, it maintains its distinctive rhythms of one presumably smart executive after another vacuously agreeing with ideas they know to be terrible, no one daring to say what they really think lest they be deemed wrong. The platitudes from all corners of the table build up to a symphony of bullshit, the cast grappling with this piffle amazingly well.
John Morton's script is a note-perfect parody of the kind of workplace where passion has been elbowed out in favour of bland corporate jargon simply claiming passion. Add to that the extra bureaucracy and fear of causing offence of a BBC facing charter renewal, intense scrutiny and a shrinking budget, and you have an organisational car-crash in tortuous slow motion.
The most pressing crisis head of values Ian Fletcher (Hugh Bonneville) and his team face in season three concerns an ex-footballer who claims he was discriminated against for a job as a Match Of The Day pundit because he is a transvestite. Although the painfully obvious truth is that he was rejected for being 'crap'. Nonetheless his case becomes a cause célébre for social crusaders and a Twitter headache for which the BBC has no paracetamol. As usual the cure may be worse than the ailment in this worryingly credible storyline.
Jessica Hynes is the most comically irritating character as the vacuous buzzword-spouting PR guru Siobhan Sharpe, whose company Perfect Curve has now been taken over by Dutch giant Fun Media. Though their fun is only allowed in specifically prescribed ways. This time around, her front seems compensation for even bigger insecurities than before, given the justifiable fear she has of being exposed as a highly-paid charlatan now she has a boss to answer to.
Still, she has pitched an idea that seems to have gained traction: BBC Me, a user-generated channel. Even if Fletcher isn't entirely convinced: 'Essentially it's a version of YouTube, isn't it?' he points out. 'Isn't there a case for us making content for our audience rather than them making content for us?'
Meanwhile, Fletcher looks like he's about to be at the centre of a love triangle between the ice-queen Director of Better Anna Rampton (Sarah Parish) and reluctant Head of Inclusivity Lucy Freeman (Nina Sosanya), who looks increasingly like she's preparing to bail on the whole charade. But don't expect Fletcher to take any decisive action in his personal life, given his professional record.
Another strand has a programme idea originated by monosyllabic assistant Will (Hugh Skinner) seized upon and ruined by executive interference, despite the protestations of development producer Izzy (Ophelia Lovibond) too junior to really be able to stick up for the simple-minded but well-meaning doormat she clearly has a soft spot for.
Look out, too, for rising circuit stars Rose Matafeo and Emma Sidi pop up as observers from the 'Department Of Culture Media And For Some Reason Sport', as David Tennant's subtly arch narration has it – even if they don't have too much to do in the first episode.
• W1A returns to BBC Two at 10pm tonight.
Review date: 18 Sep 2017
Reviewed by: Steve Bennett
What do you think?