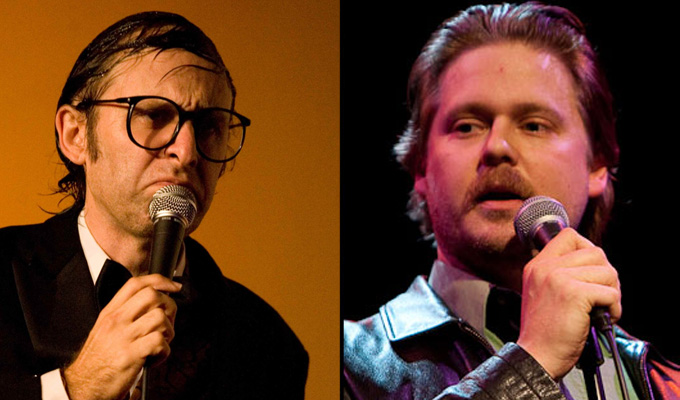 Tim Heidecker and Neil Hamburger
Fans of convention-defying cult stand-up are being spoilt with this double bill: not only the British debut of US alternative comedy hero Tim Heidecker, but a return visit for the bilious cesspit of abject misery that is Neil Hamburger.
Heidecker is best known for his collaborations with Eric Wareheim, even if the Adult Swim show Tim And Eric Awesome Show, Great Job! – which has just returned for a tenth anniversary edition – is hard to find in the UK.
He makes quite the entrance: stumbling into the microphone stand, then spending the best part of five minutes trying to restore order in an hilarious display of frustrated, chaotic slapstick. The fact that his misadventures go on way longer than they ought are a huge part of his appeal.
As he tries to get under way proper, he has to quell the nausea, having allegedly contacted food poisoning from an ill-advised Full English, though you might mistake his near-retching for an aversion to his own act.
For essentially, he presents as a fairly useless jobbing comedian, with a bit of confidence but very little material: agonisingly tortured puns, unconvincing impersonations and inept hypnosis – and with a delivery which often has him struggle to find the right words. The ham-handedness is persistent, but underplayed, a nuanced parody rather than an exaggerated caricature.
Despite the amateurish he presents, Heidecker has gloriously misplaced conviction in his own abilities, even wanting ditch the prepared set he's become bored by for some freewheeling, in-the-moment ad-libbing – 'comedy without a net', he calls it, appropriating the tagline of Set List. No surprise that his braggadocio in approaching this far outstrips his talent, and he flails brilliantly.
Irony extends to his implied support of Donald Trump… but he wouldn't be a raging egotist of a comedian if he didn't suggest he could heal this divided world with a few inspiring words. After all, if a Coke drinker like him can tolerate a Pepsi fan, no rift cannot be bridged, right?
This culminates in a great set piece, a crap joke that he fumbles, and must retell time and again – for the special he says he's recording – and if we laugh in the wrong place on Take Two, we'll spoil it…
It's a unique and imaginative 45-minute set, enhanced by Heidecker's rare commitment to the gags and subtle subversions of the accepted protocols of stand-up – though he could probably have milked that food poisoning idea more.
Hamburger, the creation of Gregg Turkington with whom Heidecker hosts the On Cinema web series, is similarly renegade, taking the same comedy etiquette and mutating it, thorough his grotesque parody of a slap-on-the-fake-smile nightclub comedian.
Back at the Soho Theatre for a fourth time, he hijacks the safe space of a joke format to vent his infected spleen, with disproportionately vicious one-liners denigrating the most irrelevant of targets. Kiss frontman Gene Simmons is subject to the most rancorous abuse, while his description of a variety show fronted by Full House actor John Stamos is so depraved as to make the legendarily bad-taste Aristocrats joke look like a nursery rhyme.
Hamburger puts a distinctive rhythm to his jokes. 'Why?', he asks repeatedly, before getting to the celebrity's name, which he then mentions several times with varying adjectives to praise or disparage them. 'Legendary' is a favourite, each syllable stretched to its limit. The audience get involved, too, responding, 'Why?' to trigger the scabrous punchlines.
Maybe a third of these are actually great jokes, the rest little more than base slander in set-up/punchline form. You never know which you are going to get, but both options are brutally funny.
The abuse all comes from from a place of self-hatred, for Hamburger is grubby man with a permanent scowl, greasy hair matted to his scalp and an ever-present drink to numb the pain of his pitiful existence. He's the clown who can't hide his misery.
The only disappointment here was that his set only ran for half an hour or so, for we could feast on this Hamburger for muchs longer.
• Tim Heidecker and Neil Hamburger are at the Soho Theatre until Saturday.
Review date: 29 Aug 2017
Reviewed by: Steve Bennett
Recent Reviews
What do you think?