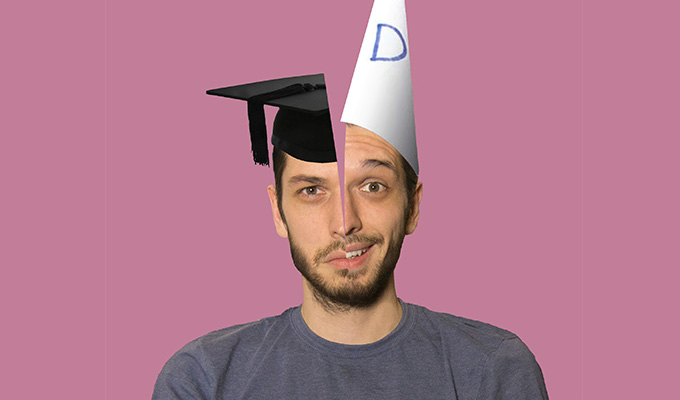 Stoph Demetriou - The Dunning-Kruger Effect
A comedian who's not good enough and knows it does a show in the guise of a comedian who's not good enough but is is too dumb to know it.
That's the premise here – but it doesn't disguise the fact we still have to endure a comedian who's not good enough, knowingly or not.
Stoph Demetriou is essentially taking the trope of telling a deliberately bad joke then acknowledging its awfulness to its absolute extremes in this patience-testing hour in the Three Sisters' miserably oppressive Wee Room.
If you don't know it, the Durning- Kruger effect is a well-known psychological phenomenon in which someone who is unskilled or uneducated about something overestimates their competence, since they don't realise how much they don't know, while also underestimating the expertise of others who do know what they are talking about. It's what Donald Trump suffers from, basically.
Demetriou intercuts the dismal live show with video of him supposedly having meetings with his agent who advises him not to do the show. Every mistake that agent says the comic will make, he does.
It's possible this is ambitious meta-concept comes from a brilliantly talented comedian, but there is no trust that this is the case; rather it seems like he's making a framework to excuse his lack of jokes, stagecraft and likability.
The Demetriou presented to us one of those comics who sneers at mainstream comics for prioritising 'relatability' to make thousands of people laugh, while he is clearly the true comedian for making a dozen people feel awkward and embarrassed for him.
In further videos – and there's probably more looking at the screen than live performance here – Demetriou goes on a comedy course and is overwhelmed by the mediocrity on display. Again, this would work if we didn't think 'mediocrity' was a level he could only dream of.
Via these sessions, we meet one of his characters, a streetwise new comic called TJ, with his bland 'on the bus' material. Though the creation is a very poor man's Ali G, which would have felt dated 20 years ago.
Other video strands show his internal battle between confidence urging him to do something and paranoia holding him back (maybe he should have listened to the second guy a bit more); and a recurring spoof 1980s cop show called Law Of The Land. Demetriou has clearly spent a lot of time shooting this and creating the right period look, it's just a shame that the script is, again, so terrible.
Demetriou's ambition and commitment should be admirable and there are fleeting glimpses of what he's trying to get at – such as the nagging self-doubt voiced whenever he taps the Oyster card reader on the London Underground. But despite the grand idea, there's no escaping that sitting through this hour is something to be endured, not enjoyed – only the brief Diet Coke break providing welcome respite and an actual laugh or two.
Review date: 27 Aug 2017
Reviewed by: Steve Bennett
What do you think?