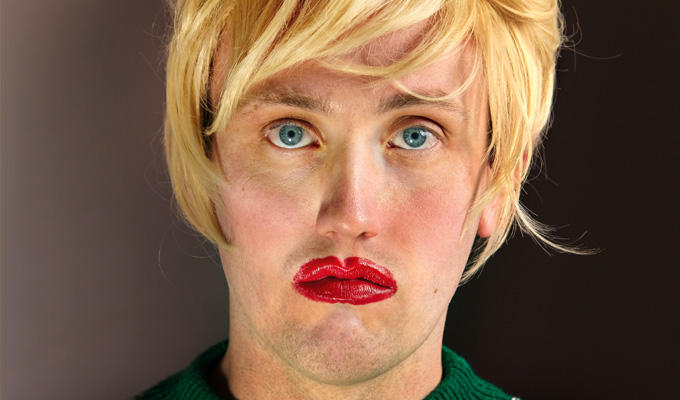 Phil Dunning: The House Of Pigs
If Phil Dunning's show was a tweet, it'd be disallowed for containing too many characters. Heaven knows what his wig bill alone must have been to bring to life all his alter-egos in this fast-paced and delightfully peculiar sketch show, based in a cabaret bar, the titular House Of Pigs. There's even a plastic pig's carcass suspended from the lighting rig to signify the location.
He occasionally appears as 'himself' – always introduced as 'character comedian Phil Dunning' – to set up what he admits is a threadbare plot about this haven for creative outsiders facing takeover by the laddish Slug & Arsehole pub chain, though it's only rarely mentioned and never resolved. For this is not a show of slick plotting, just a cavalcade of the curious, the camp and the confused. A provincial British Moulin Rouge seen through a a morphine haze.
The joint is supervised by Sonya Jackson, the alleged former child star of Jurassic Park, who warns that the show gets 'quite weird' – but it's only ever in a silly way; there's one foot in a heightened reality and the brief sketches are never impenetrably surreal.
Some of the creations would almost certainly not sustain for more than the couple of minutes they are on stage, but the fast turnover conquers that. Hamming it up – pun very much intended – are a parade of misfits: a twisted burlesque star, a big-haired chanteuse, a fey Butlin's singer-songwriter, a poet and an agony aunt.
I loved the Bernard Manning style comic Fat Roy, with his catchphrase: 'You can't say anything these days… without farting.' And does so. Puerile, yes, but daft and maybe with a point, of sorts, about dinosaur comics. And DJ Stereo with his phat beats, is hard to resist.
The super-camp spoken word artist describing his first day at college in increasingly homoerotic terms was a rare dud, that went on too long. And I'm not sure about Magic Lisa either… although the oddness of that conjuror character is addressed in the heckles that are prerecorded. 'Seriously mate, what the fuck was that?'
Dunning, who was previously in the Oyster Eyes sketch show, performs everything with an amusingly exaggerated physicality, and flashes of a strong singing voice.. His knockabout energy never flags and he gets a rare accolade - making his tech guy laugh repeatedly, despite the being the twentysomethingth time he's seen this nonsense.
But he was right to chuckle, for this is mighty entertaining nonsense.
Review date: 26 Aug 2017
Reviewed by: Steve Bennett
Recent Reviews
What do you think?