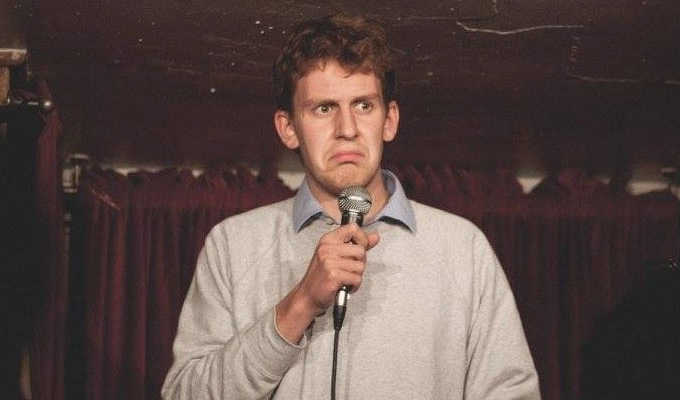 Rob Oldham: Brink
Rob Oldham claims that he doesn't really like comedy… though there's just a slim outside chance that could be a joke. He's certainly studied comedy enough to mock it, subvert it, and deploy its tricks so he can put a tidy lid on his unconnected routines to affect the illusion of substance. And then point out that's exactly what he's just done. So meta!
He offers a little swipe at David Mitchell – in whose footsteps Oldham has followed through the Cambridge Footlights – and Live At The Apollo. Nine times out of ten when a newcomer mocks those at the top of their game, it jars as a cheap shot, usually from someone struggling to make a room laugh at all.
But over his 40-minute, toe-in-the-water Edinburgh show, Oldham earns the right, by demonstrating himself to be an imaginative writer with interesting ideas and command over their delivery. 'Give me back my dick string,' is a fine punchline in anyone's book, no matter what the set-up.
Still just fresh out of uni, he is aware of technological trends, such as emoji-driven phone sex, even if he doesn't understand them – while having has post-millennial fears about the gig economy and his place in the world, part of a wider political awareness.
He laughs in the face of Tory hubris over the election, but is also dismissive of the student left, morally bullying everyone to fall into line in the name, ironically, of tolerance. That's been something of a touchstone for comics this Fringe as free speech gets constricted, and Oldham needs to do more to stand out here. But then his surreal take on Jeremy Vine's election-night analysis is entirely his own.
A unique technique is to offer prose poetry to backing tracks – the emotive power of music in comedy presumably picked up from his study of the art. And of course it works, as well as a giving a distinctive trick to remember him by.
Oldham picked up the breakthrough prize at the Amused Moose new comedy awards earlier this Fringe, and it's clear to see why. He has quirky, offbeat sensibilities that distil into smart jokes that rarely sound like anyone else's. Quite a rare achievement in such a newcomer.
Review date: 25 Aug 2017
Reviewed by: Steve Bennett
Recent Reviews
What do you think?