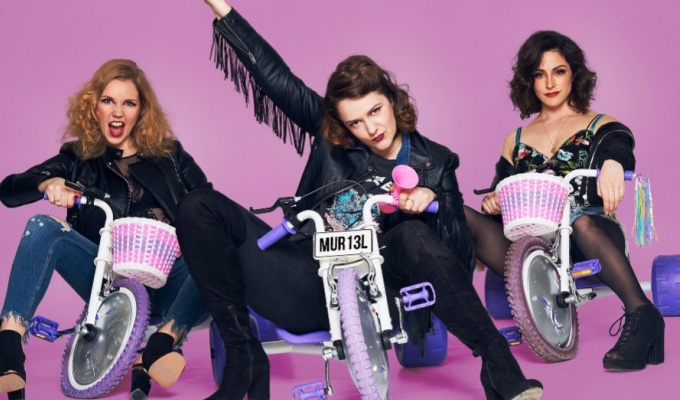 Muriel: Bad Master
Plenty of sketch groups are establishing their reputations online now, so it makes sense that some will prove themselves exceptionally accomplished with video by the time they make their Edinburgh debut.
Muriel's production values stretch to credible impressions of some of the top female actors of the day, the wigs and make-up of the likes of Emma Thompson, Emma Stone, Helena Bonham Carter, Jennifer Lawrence, Emma Watson and Saoirse Ronan designed not to make them look stupid in the main, but actually like their inspirations.
The stars are imagined for a series of glossy Vanity Fair interviews in which they discuss revisiting traditionally male roles such as the Godfather and Rocky, with the humour residing in the affectionate, only mildly heightened performances and droll script.
Elsewhere, there's a brief clip of a period arthouse film, with searching looks off camera and a gloss that suggests Merchant Ivory. The lush visuals are contrasted with the exploitation and silencing of the two leads by the (female) director on stage in the post screening Q & A, her auteur's controlling nature and nudity requirements for the lesbian scenes suggesting something sinister.
However, the earliest signifier of Muriel's classy aesthetic is the brilliant opening film of Janine Harouni, Meg Salter and Sally O'Leary chatting to their parents on FaceTime about their Fringe run.
Though the struggles of an older generation with digital technology are hardly a new trope Muriel deliver a definitive portrayal as both their despairing selves and parents, packing the short sequence with numerous jokes about technical incompetence and gossipy, slightly racist relatives who can't help themselves disclosing how siblings are doing better in life, alongside knowing jokes about the slog of an Edinburgh run.
A wonderful trailer, it means that when the trio do appear on stage, there's an awful lot of goodwill towards them – which they repay with energetic, committed performances, initially as improv troupe The Laughletes.
Although a niche, jargony send-up of the Chicago school of improvisation, spouting their inane maxims of 'yes, and' and the like, anyone should appreciate the excessively contrived manner in which they wheedle their audience suggestions round to pre-prepared material, a simple but effectively executed idea.
Muriel have a strong team dynamic, whether it's Salter as rapper Jess-E, leading her posse through rhymes about her wayward ex, the growing number of seemingly inconsequential details in her lyrics explained by the payoff, just one of a number of cynical notes about online personalities and marketing in the show.
Or O'Leary as the most extrovert bridesmaid at a wedding, determined to make the occasion about her struggling showbusiness career. Or Harouni as the dominant Brownie, leading a big-hearted but uncomprehending production of Angels in America, the AIDS storyline dispensed with for a more thorough focus on fairy wings. One of Muriel tends to take the lead but they're united in their purpose.
Their best sketch is a contemporary remake of last year's film Hidden Figures, with the female job applicant at NASA and her female interviewers both toeing the party line of the Trump regime, a great idea realised with an arch, snappy script and a memorable physical gag to close it.
The hit rate is generally very high with only Sue, a YouTube upcycling sensation of absolutely shit products and a couple of other vacuous new media personalities adding little that hasn't been seen before or isn't already beyond parody. These afford a thematic coherence to the show, which culminates in the Vlogger Awards, but they're the weakest part of the hour.
Even when Muriel are less original though, as with Salter as the bridesmaid betraying a little too much of her true feelings about the bride in the unwitting testimony of her speech, the adept performances boast intuitive chemistry and redoubtable energy.
Telegenic and versatile, and with a striking stage presence, Muriel seem to have the potential to be the new Smack The Pony. And you can't give much higher praise than that.
Review date: 25 Aug 2017
Reviewed by: Jay Richardson
Recent Reviews
What do you think?