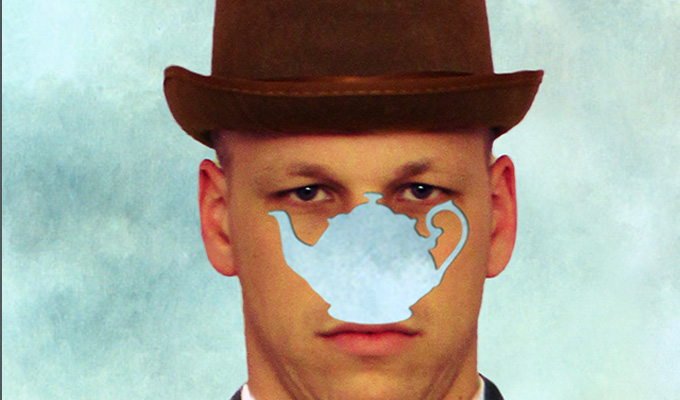 James & Jamesy: 2 for Tea
There are not just two people in James and Jamesy, it's almost as if there are two shows.
There's a slightly pretentious mime presentation, with exaggerated but precise moves between carefully framed poses, the product of physical theatre training and plenty of practice. It's a studied, slow piece, as if choreographed by Harold Pinter. The pair get some laughs for absurdity, but it's quite a formal presentation.
Then there are the moments when they pluck someone from the audience, and the previously staid show bursts into vitality, thanks to loose, playful interaction that calls to mind a less fearsome Adam Riches.
We're first introduced to Jamesy (Alastair Knowles) as he preens his way to the centre-stage table, teapot and cup each at arm's length, which he fussily arranges until they are just-so. He has the air of an eccentric minor aristocrat, down on his luck or in his dotage.
Then arrives James (Aaron Malkin), who presents a more childlike facade – broad smile, brown derby hat, vivid blue jacket – as he pops in for the weekly tea party. Jamesy fixes him a cuppa. From standing on his chair, foot pointing downwards at the table, and pouring arm way over his head.
It's good tea, pronounces James, after quite a bit of preposterous business, both physical and verbal. It must be taken to the troops on the front line to boost morale. Call for the general! Who just happens to be sitting in the front row, it's just she didn't know it.
As usual with these situations, laughs come from the 'volunteer' struggling to figure out what's expected of her - but she's game, and the set piece quite spectacular.
But then all is quiet again ready for the next week's tea party, James battling through the storm (and showing perfect mime skills with his umbrella in a stand-out sequence) to get there. Second time around, the pair are a lot more likeable, those first impressions of ponciness fading away.
By the end, we've bonded over a shared story and an emotional(ish) ending, and if not quite a love for James and Jamesy, a very strong 'like'.
Review date: 25 Aug 2017
Reviewed by: Steve Bennett
Recent Reviews
What do you think?