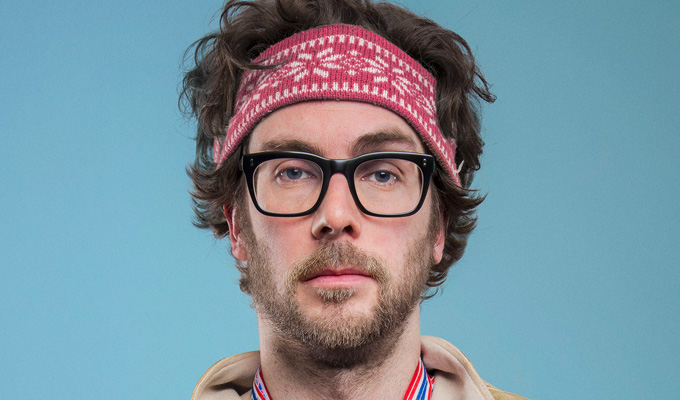 Ben Fogg: How I Won Best Newcomer 2017
As a reviewer, you're supposed to be able to spot bullshit a mile off, ignore hype, see the comedian for what they really are.
The hype surrounding Ben Fogg in the run-up to this Fringe has been fevered – the trouble being that every last bit of it has come from Fogg himself. The self-aggrandising videos, the press release that Mohammed Ali would think was a bit much, that goading show title… it's supposed to be ironic of course, but there's nothing ironic about paying to have huge posters of your face around Edinburgh (how many debutants can afford that?). Or making it clear to journalists what a high-achiever you are: 'Film producer at 17, manager of a New York rock band at 20, award-winning film director hobnobbing with Meryl Streep by 25.'
The one-note braggadocio continues when Fogg steps on stage, high-fiving anyone he can reach and loudly proclaiming his arrival. Then comes the banter – that most male form of communication, all surface no feeling. Just keep deflecting, and no one will interrogate you. But no one can do that for 60 minutes. At some point, the comic has actually got to get on with it. Show what they've got. Finally, it was time to see whether Fogg can walk the walk.
Well, it all unravelled pretty quickly. I'm not just saying this because of all the build-up, but Fogg's show is ragged, arrogant and lame.
Ragged because he doesn't have the comic discipline to engage with the audience, then know how to deal with their interruptions and keep control of the show. Arrogant because he's managed to fill the room with paying punters (thanks to the heavy promotion), even though he must know he's out of his depth. Lame because, bottom line, his jokes and routines aren't very good. You have to wonder what exactly he's trying to prove, and who to.
Success is the theme of the show – what it means, the price you pay for it, how your perception of it changes with age. Fogg did indeed manage to land a TV production job in the USA while he was still a teenager, and he casts himself as the ingenue, doing demeaning errands for A-list celebrities and generally not having a very nice time.
Now 38, he mourns the days when his friends would have actual parties, not dinner parties. Everyone's more competitive now and wants to flaunt their achievements (you don't say). One thing on Fogg's side is he is clearly a smart, perceptive chap. But apart from a few standalone jokes, he's not able to turn his observations into funny, substantial routines, and no amount of aping Kramer from Seinfeld can paper over that.
Eventually, Fogg's late dad takes over the show. Fogg says this is the ace up his sleeve for winning that Best Newcomer award. Sure enough, his dad is a gift – he provides his headbanded son with a lot of useful material, not least an email despairing at Ben's lack of career success. It certainly makes for a more compelling end to the show than the rest of it.
Once you get past all the self-promotion crap, Fogg comes across as a decent guy who any reasonable audience would take to. He seemed quite nervous during the show, and genuinely emotional at the end.
But ultimately, there are probably a hundred comedy shows I would recommend seeing over this. Because from what I saw, Fogg isn't really a proper comedian. He's a blagger.
Review date: 23 Aug 2017
Reviewed by: Paul Fleckney
Recent Reviews
What do you think?