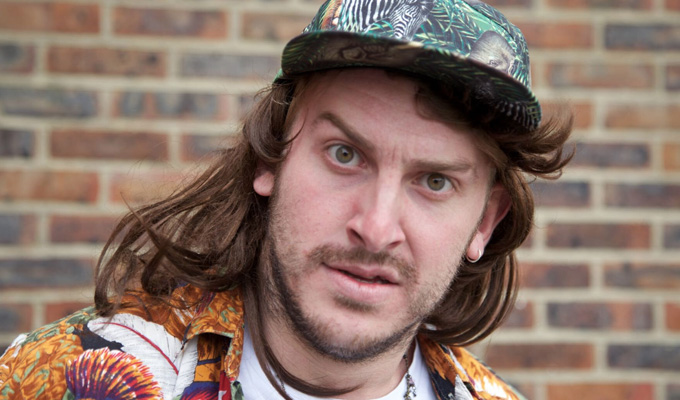 James Bone: Townies
It hardly seems worth the effort of saying what happens in the irredeemable Townies, seeing as James Bone isn't exactly busting a gut himself, but here goes … we're in a pub, and Bone plays a variety of different characters who drink or work there. We know we're in a pub because he's printed out the word "PUB" and stuck it on the wall behind him. Consider my disbelief suspended.
On to, god help us, the characters. There's a trustafarian traveller with no principles, a security guard who's written his memoirs, an Aussie who's obsessed with Bez, and an ex-drugs cop who liked drugs too much. None of them do or say anything of note, let alone funny.
His sidekick is the pub's cleaner, Margaret, who comes on to cover while Bone disappears to shake himself out of one character and pour himself into another (i.e. change his shirt). It actually looks as if Margaret can act a bit, which is the real tragedy here. Throw away the mop, Margaret, and storm the stage! Claim your destiny!
Had there been more than half a dozen of us in the room, there would've been walkouts for sure. I think the only actual punters were a middle-aged couple from Canada who sat nervously clutching their drinks and will never take a risk ever again.
Next to them was a trendy young bloke who I'm guessing was a reviewer for a student publication. I don't think I've ever seen anyone so angry at being at a show in all my life. He wore his sense of obligation with maximum huff, like a teenager dragged along to church. When Bone was doing the rounds at the start, asking people where they were from, trying to jolly things along, Bone said to this guy, 'What about you?'. He scowled and said, 'What about me?' He probably still gave it 3 stars.
Bone was at least considerate enough to acknowledge the weirdness of the gig. For one bit that required someone (muggins) to don a dog mask and pretend to burrow through the centre of the Earth, he spared me the indignity of getting on stage to do it. I was genuinely grateful.
He also wound up proceedings after about 40 minutes, so that was good, too. Another thing that was good: it ended with a duet of Islands in the Stream, which is a good song. He also didn't waterboard anyone or set fire to anyone's hair, but I don't think that's enough to bump up the stars.
Townies has the feel of someone who told his mates in the pub that he was gonna do a comedy show in Edinburgh, despite having no comic ability, then made the show about those very mates because he couldn't think of anything else. I mean no ill will to nice people, but bottom line, this is a half-arsed waste of time.
Review date: 18 Aug 2017
Reviewed by: Paul Fleckney
Recent Reviews
What do you think?