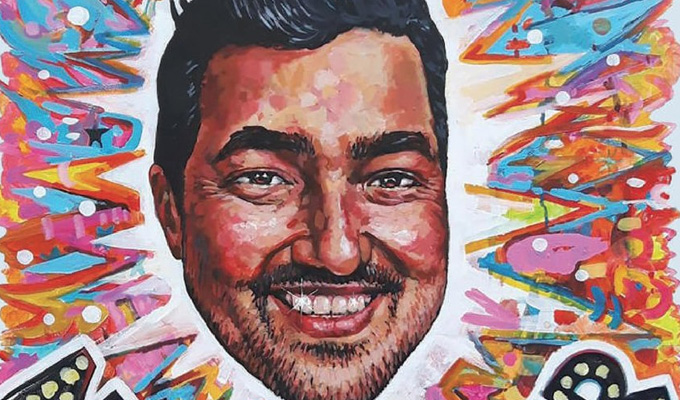 Adrian Minkowicz: Best Newcomer
Every so often a bright spark has the slightly cynical notion of naming their Edinburgh debut Best Newcomer – indeed, Adrian Minkowicz isn't the only one to have the same idea this year. But rarely are such shows likely to trouble the judges, and likewise here.
The premise is that the Argentinian-born, New York based comic has ambitions to scoop the prize so asked comics including Phil Nichol, Ari Shaffir and Tiernan Douieb about how to put together a show, and filmed them giving their advice.
If he'd asked me, I'd have gone for 'ditch all those videos asking comics for advice on how to put together a show'. For more than half the hour, we're just watching videos, rather than seeing the stand-up do stand-up.
There's a very odd moment, for example, when the screen shows him dancing around for a few minutes, when he's right there, crouched beside the laptop. Couldn't he just do it on stage? Not that it's especially funny in either case, but he'd surely get more out of doing it live.
Some of the films are funny, most are too sluggish, and all are too in-jokey, suggesting, fairly or not, that Minkowicz is a comedian who's only concerned with the world of comedy: mulling whether using music is hack, whether he's got a backstory that could be awards-bait, and whether he's really got the experience to do a full hour.
Maybe padding his time out with film answers that. Much of the footage seems to show how well-travelled he is, being shot in Manhattan, London, Stavanger in Norway, and China. There's also a gnawing feeling that he's riding on the coat-tails of more established comedians, getting them to riff some funny lines he can use, often being racially and culturally insensitive to his background. But credits at the end of the show do point out that he wrote everything, so that doubt is eventually laid to rest.
What we do get to see of Minkowicz's stand-up demonstrates him to be a hugely affable comic, prone to a cheeky wind-up to tease his audience. Witness the bit on the Malvinas – or Falklands, as Brits will know them. There are enjoyable observations on how he's perceived and performing in a second language, too.
But there's also material that verges on hack: having a skin tone that means he gets treated as a potential terrorist at airports, or suggesting that prohibition of same-sex marriage was the perfect excuse for couples who didn't want to commit, then a pretty cheap rape joke that he then explains why it's OK to tell.
So a mixed bag… I came away wanting to know more about Minkowicz, which is testament to his likeable persona, but also damning as too how little we actually heard from and about him in the hour.
Review date: 16 Aug 2017
Reviewed by: Steve Bennett
Recent Reviews
What do you think?