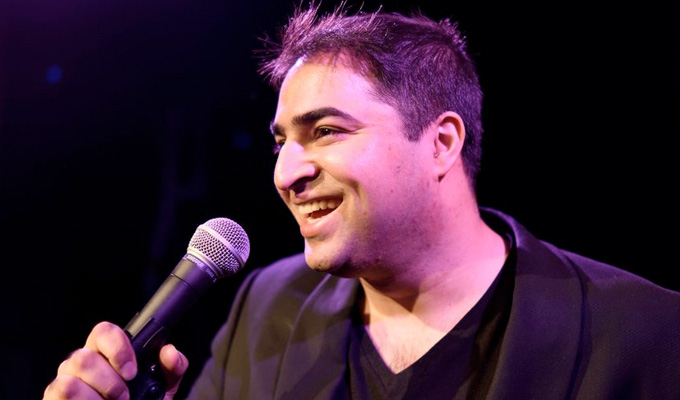 Aatif Nawaz: The Last Laugh
Celebrating ten years in stand-up, Aatif Nawaz is a proud British-Pakistani Muslim, drawing deeply on his background for this greatest hits set.
The timeframe is reflected in the topicality of his routines, which, notwithstanding his avowed pride in joining a religious comedy tour last year and a recant of some of his older, homophobic material, could have been written at any point between 2007 and today. So The Last Laugh is decidedly is it not pushing boundaries or justifying the self-congratulatory lap of honour.
Nawaz is entitled to play with stereotypes of Muslims as suicide bombers, especially in riposte to perceived racism. But he's cuddly and endearing rather than cutting whenever poking fun at unease about his faith, operating at a disappointing level of superficiality. Introducing a clunking bit of audience manipulation as his favourite joke early on doesn't inspire confidence either.
His marriage reflects the familiar cooling of passion with time, his wife now capable of only the most straightforward and circumspect compliment. But even when filtering the notion of judging a man's potential by the quality of his shoes through a Muslim perspective, he still struggles to alight on an original idea about male and female relations.
A flashback to his single days is more promising, as he adopts another ethnicity in pursuit of a one-night stand. Yet he expends so much in the set-up that you intuit the punchline long before it arrives.
The homophobia renunciation is an interesting bit of housecleaning, with Nawaz, initially at least, skewering bigotry with a nice line about pre-emptive internet trolling, before later denouncing the friend who suggested his support slot for Paul Chowdhry was secured with sexual favours. Even so, he can't resist a bit of a snigger, the sanctity of halal used as set-up for an artless bit of juvenilia about gay prissiness.
So jaded can stand-up seem sometimes, that it's actually refreshing to hear Nawaz share his admiration for Chowdhry and his hero, Omid Djalili, stating his intention to perform on Live at the Apollo with the Iranian, singing a Bollywood number replete with sleazy lyrics.
You can actually see echoes of Chowdhry and Djalili contending within him, the wannabe cultural provocateur and the crowd-pleasing bridger of cultures. But unable to choose between them, he's a pale shadow of both.
Closing with the tale of how he got into stand-up, Nawaz recalls his response to Gong Show adversity by falling back on a familiar trope, a limp fizzle to a patchy hour.
Review date: 15 Aug 2017
Reviewed by: Jay Richardson
Recent Reviews
What do you think?