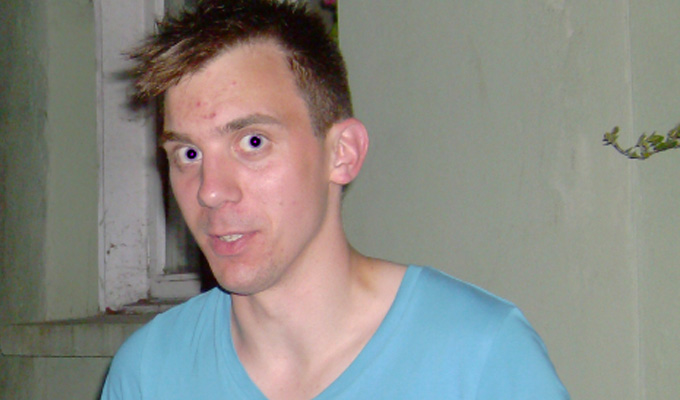 Mat Ewins Presents Adventureman 7: The Return of Adventureman
Mat Ewins hoiks himself up on to the shelf at the back of his stage, and offers a sincere defence of pure silliness. He's at the Fringe neither to climb the career ladder – he's very aware that his brand of nutty high jinks is very hard to translate into anything else – nor for any grand artistic reasons, mocking the seemingly never-ending series of shows about depression by branding this month 'the Edinburgh Whinge Festival'.
It is a completely atypical couple of minutes in his otherwise utterly frivolous hour, but it seems worth saying, putting all his shenanigans into a wider context. Just mucking about and getting laughs should surely be ambition enough – and on both counts, Ewins triumphs. The show is supremely silly and very funny, with daft jokes jemmied into every crevice. Think a one-man live version of Airplane!
Disaster movies are not what he is spoofing, though, but Indiana Jones-style yarns of derring-do. His alter-ego Adventureman – a fully-fledged characterisation achieved by the immersive Stanislavski acting technique of glueing a bit of cotton wool to his top lip – works at the 'British History Museum' and to save their vital work has to get an amulet from Skull Island before his treasure-thieving nemesis.
It might just be a bit of Stuff and Nonsense but Ewins must have spent most of the last year working on the videos – and even computer coding – that has gone into this.
Like a digital Terry Gilliam, he's created distinctively odd animations to link us from scene to scene, with plenty of tiny, often nonsensical jokes, hidden therein. He's also programmed an algorithm that generates comedy names at random, largely to for his own amusement to give him a surprise each day, and even written an Xbox game, that he invites one member of the audience to play. There are other silly videos, too, such as an informercial for an hilariously impractical invention he's devised – and you can play 'spot the cameoing comedian' in these, if you're so inclined
Ewins may be the straight man to his flatscreen TV, but he also manages the balance between anarchy and keeping the show on the road, as well as being a perpetual prankster with his audience – tricking them into revealing their racism or singing the unsingable. It's very knockabout, maybe a little hit-and-miss, but scudding along at such a lick that something that tickles you will surely be along within a matter of seconds, especially if you pay attention to those films.
Inane, yes, but it would be a miserable sod who wasn't won over by Ewins's cheery nonsense.
Review date: 15 Aug 2017
Reviewed by: Steve Bennett
Recent Reviews
What do you think?