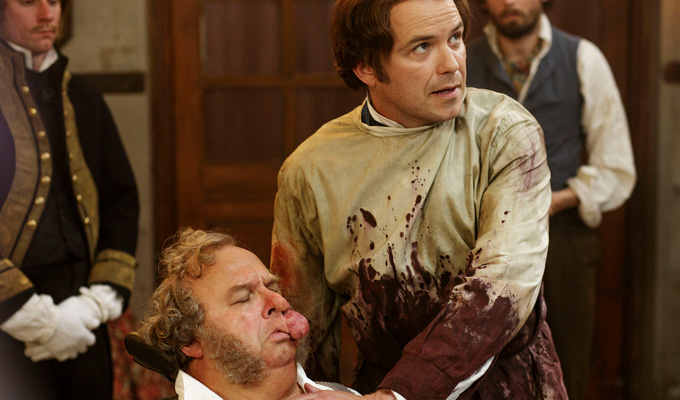 Quacks
The team behind Quacks, BBC Two's new period medical comedy, are very proud of the research they've put in to ensure their scripts are historically accurate.
For there's plenty of gruesome black humour in the barbaric surgical practices and misunderstanding of even basic medicine among the doctors of 1840s London, while the unenlightened social attitudes towards women and the mentally ill have a dark irony from a modern perspective.
Writer James Wood is clearly seduced by this fascinating era of very early scientific discovery, as well as the fact that the top surgeons of the day were celebrities, performing their bloody procedures in front of an audience – it's called an operating theatre for a reason.
There is, in the first episode at least, a bit of a feeling that exploring the primitive, bloody medicine has been put ahead of developing the characters, which is the thing that will keep viewers coming back. But given that he also wrote Rev, Wood has a track record of creating figures who rather subtly inveigle themselves into your affections, so time will tell.
Count Arthur Strong's Rory Kinnear is Robert, the epitome of the starry surgeon: arrogant and womanising, coolly drawing on a cigarette as he performs some grisly butchery. But he's neglecting his wife Caroline (Lydia Leonard) who flirts with his colleagues by describing her sexual frustrations as medical symptoms. She's frustrated professionally, too, as she's keen to enter medicine – a laughable idea that such a thing could be a 'girl's job'.
The object of her seduction is William (Matthew Baynton), a psychiatrist – or 'alienist'– who has the radical idea that trying to beat obsessive-compulsive behaviour out of someone might not be the best cure.
Tom Basden completes the central cast is as John, a backstreet dentist who we first meet practising on a disgusting crone of a hooker, who is dabbling in early anaesthesia… mainly on himself.
For all the period realism, there's the occasional flash of Pythonesque humour – the patient being told that he doesn't want to keep his leg, for instance. But generally, the comedy is underplayed – this is not Blackadder in a hospital – and the mordant wit left in the background.
The usual elements that fuel both medical dramas and medical comedies are present and writ large: the ever-present spectre of death, and the failings of our bodies. Witness the facial tumour that would be big enough to warrant its own mention in the credits, or the innkeeper worried about his 'leaking sperm'. The cure? Mercury, maybe with a dash of his wife's urine…
• Quacks is on BBC Two at 10pm tonight.
Review date: 15 Aug 2017
Reviewed by:
Recent Reviews
What do you think?