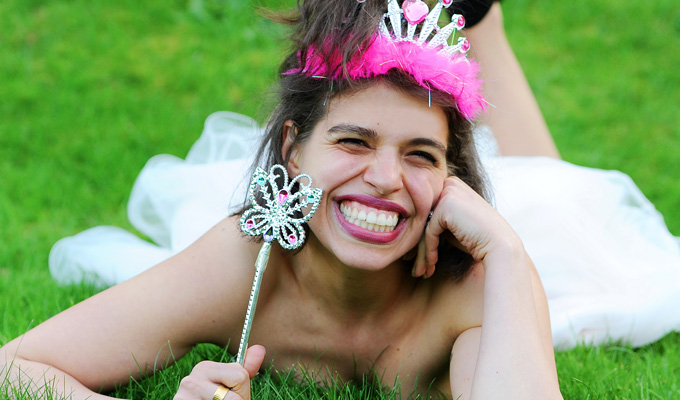 Candy Gigi Presents: Becky Rimmer's Bat MItzvah
In a dank corner of a dank venue, Candy Gigi has been doing outrageous, almost unreviewable shows for a few years. The fact that they take place at such a civilised hour – 1.15pm – seems to make them all the more scandalous. You emerge an hour later, blinking into the daylight, relieved to have made it out and exchanging knowing glances with your fellow escapees. It just feels a bit wrong, like when you see people drinking in an airport at 7am.
But boy Candy's shows are a hoot. Analysing them is probably the ultimate exercise in 'dissecting the frog', but here goes …
This year's offering is a savage attack on the institution of bah and bat mitzvahs, with Candy playing a 12-year-old Becky Rimmer going through hell. The seven of us in the audience are enlisted as family members and friends, yanked on stage to help out with her songs and sketches. It's no place for a half-hearted audience member – the more you give, the more you'll get, not that Candy gives you much choice, yelling in our faces like an army major.
There are a few genuinely fantastic comic moments, like her gruesomely shocking rendition of what she thinks sex is, and there's humour in her bratty, volatile character, how far she pushes things, like her dubious relationship with her father.
Not all of it is shock value, even though that's almost certainly the only stuff you'll be able to remember afterwards. Candy is evidently aware that there are diminishing returns in always going to the most extreme place.
Some of her set pieces and characterisations are dark and barbed, and at these points, the writing could do with a bit more care and finesse to take the show up to the next level. Examples are her confessional bat mitzvah speech, in which she admits to having too much self-esteem, and her two big songs that bookend the show. It should be noted that her Whitney Houston-esque closer, when she miraculously turns from girl to woman, reveals her to have a glass-shatteringly powerful voice.
To Candy's credit, not once does she drop out of character, and this maintains the intensity and the feeling that we really are being held hostage by a child tyrant. She's not interested in taking her foot off our throat, on reassuring us that she's not going to make you do anything too awful – she's having her big day, and nothing is going to spoil it.
Some people will utterly hate this show, but I think that's fewer people than you might expect. There's so much audacity to Becky Rimmer's Bat Mitzvah that it would take a hard heart not to get on board. It's wonderfully grotesque, utterly memorable, and nearly, but not quite, brilliant.
Review date: 14 Aug 2017
Reviewed by: Paul Fleckney
Recent Reviews
What do you think?