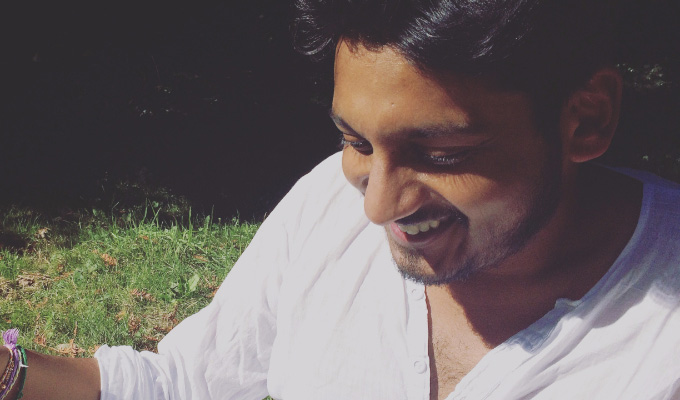 Ahir Shah: Control
With a neat joke at the start, fiery political comedian Ahir Shah sums up his shtick: to confidently impart a lot of information, which you might only later realise is wrong. Although in truth, all seems pretty spot-on.
It's a typically ambitious hour from the lefty firebrand, starting with the EU referendum vote which brought out a nasty strand of nationalism and put an arrow – proper English arrow, Agincourt-style – though his previously solid belief that the world was getting more progressive. But in reality, outside his metropolitan liberal bubble, it's getting less tolerant, and more racist.
He's keen not to brand every Leave voter the same way – he has a smart, knowledgeably non-racist friend who wanted Out – and avoids too many of the familiar complaints of remain-supporting comedians. After all, he recognises that polarising society is what got us into this pickle in the first place. For balance, he even has a pop at Jeremy Corbyn's historic love of terrorists and anti-Semitism in the Labour party, but it's only a brief distraction from the job in hand.
Although he's hoping Brexit is not the self-destructive act he fears it to be, the vote – and to a similar extent Trump's reckless presidency – has been a crystallising moment for his politics, prompting this far-reaching thesis about the days of empire that the Nigel Farages and Jacob Rees-Moggs of the world are nostalgic for. But colonialism's not the benign 'good old days' fantasy they believe and peddle, but a long-distance subjugation at best, genocide at worst.
It's a sobering diatribe, though 'sobering' is not usually the aim of comedy; you want it to make you giddy. Elsewhere this festival Hannah Gadsby proves that you can drop the laughs for profound effect, but Shah feels too much like he's proselytising. He's not leading us on a powerful emotional journey, as Gadsby does, but an intellectual one, driven by his need to impart opinion and information – and that is a less satisfying audience experience.
The smart jokes come quick at the start, and as the show goes on, the set-ups get longer as there's more to explain. But the gags, when they do come, are almost always strong, and you cannot fault Shah's oratorial skills in getting the points across with passion.
Much of the laughs come from analogy, such as likening the many complex reasons people vote the way they do with his love of Nando's. Sour milk provides his favourite metaphor, though, and it proves a surprisingly versatile one. Elsewhere, the online abuse he shares, as a way of owning it, is hilarious in its ignorance and arrogance.
You can understand why Shah is so vehement: history suggests the world is heading towards an unpleasant place we thought we'd left behind, and he is compelled to shout for the brakes, even if the audience of a left-wing political Fringe comedy show are probably not the ones who most need to hear it. No wonder the show can feel like he's shouting into an abyss.
But even if he is preaching to the choir, the Home Truths (or rather foreign ones) he imparts need to be repeated, for his fear of the consequences of continuing on this path weighs heavily on him. His every point is important, but for a comedy show the preaching does tend to overpower the laughs. But for a political call to arms, it's entertaining.
Review date: 6 Aug 2017
Reviewed by: Steve Bennett
Recent Reviews
What do you think?