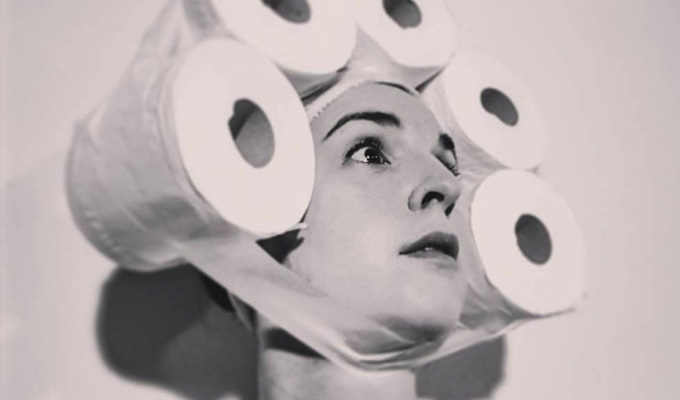 Kat Bond: Loo Roll
Credit to Kat Bond for taking such a familiar and mundane object as toilet roll and spinning such a charmingly quirky character study out of its white textured tissue.
Loo Roll isn't Andrex puppy levels of endearing, but it's not far off. And the soft stuff is everywhere. Draped over seating, in the construction of rudimentary props and wrapped around the heart of its chief protagonist. Only a cynic might suggest it's ubiquitous because it's so inexpensive to replace each show.
But then toilet roll is really all Pat has, bar some dog mess and other assorted rubbish. Left abandoned as a baby in a wheelie bin outside a Papa John's in Luton, she's hopelessly trying to find her family. And herself, by struggling to follow in the footsteps of her indifferent mentor, Tabby Crabb, 'the world's most famous loo roller', who essentially reads supposedly gripping stories off the three ply, like tea leaves presumably. It never really makes sense, even by the end.
Like her obsession, Pat is a bit of a blank canvas, unskilled in telling stories but capable of incorporating whatever eccentric direction Bond, previously of the character-sketch duo That Pair, wants to take her in. Afflicted by verbal diarrhoea and a desperate optimism, she has a touch of Miranda Hart's 'jolly hockey sticks' attitude to her, even if she's more preoccupied with another Call The Midwife star, Jenny Agutter, whose turn in The Railway Children has left an indelible impression.
A vision in white, her mildly manic cheeriness is only punctuated by flashes of self-doubt after speaking to Crabb and plaintive appeals for the family who cast her aside. She sees them discovering in the audience, blinkeredly ignoring their responses to satisfy her own deranged narrative.
In the course of Pat opening up, Bond jumps between other characters she's encountered, from the self-important Crabb, a supremely confident American who pronounces stories as 'schtories', to a mother of young daughters who's the real One Direction obsessive, to trigger-tempered Bill, a blokeish, football-loving binman who can't cope with anyone who doesn't recycle properly.
Some are deliberately one-notes visual gags, such as a portrayal of Vincent Van Gogh. Others, like a hard-bitten Scottish detective, are nothing but a caricature cameo, with little obvious reason for their inclusion. All are rendered vividly though, with Bond selling them through her energy and commitment to staying in character.
Sharing her terrible 'pomes', Pat evokes a sizeable amount of pathos and bathos alike. Enjoyably though, Bond and director Matt Crosby never really let her achieve self-awareness or acknowledge that she's hit rock bottom.
Rather than letting reality intrude upon her, she draws you further and further off into her own, ultimately leading the crowd in a triumphant paper twirling finale.
- by Jay Richardson
Review date: 4 Aug 2017
Reviewed by: Jay Richardson
Recent Reviews
What do you think?