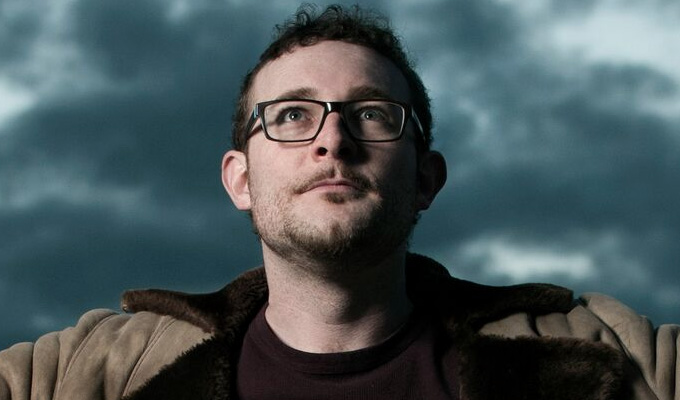 James Adomian: Lacking In Character
Who says Americans don't do irony? James Adomian's may have called his show Lacking In Character, but it's the characters that populate his stand-up – from the famous to the semi-fictional – that set him apart.
He's a master of the 'act-out', the little vignettes that flesh out whatever observation he's made, from envisaging an irascible Mickey Mouse in Disney World to replicating the depressing cartoony 'fat' sound his Nintendo Wii makes when recognising his only slightly overweight frame.
His Edinburgh offering is a club-style show of unrelated chunks of material, and something of a mixed bag, including rather straightforward comments about being on Twitter or Hollywood bad guys always having English accents. However, his performance always brings these routines up, while his writing brings a vivid imagery to first-hand stories, such as finding himself a lone passenger on a Los Angeles bus when the driver went rogue.
It's as an impressionist that he gained some prominence in the States, especially for his Bernie Sanders – Present and Correct here, along with the requisite Trump and a George W Bush, whom he portrayed on Craig Ferguson's Late Late Show, back when he was topical. But if Dubya is hardly ripped from the headlines, Adomian offers an accurate parody of the 43rd President's peculiar wave.
Even more enjoyable is the novelty of hearing him take on the less frequently mocked, from Gary Busey to wrestler-turned-politician Jess Ventura to Patrick Stewart/Ian McKellan (he claims Americans can barely tell them apart), imposing funny heightened personalities on them all. Meanwhile, as Humphrey Bogart, he coins a few nonsensical 1940s-style euphemism for homosexual.
Adomian is gay himself, and shares a few domestic stories about that, such as enjoying the chance to get close to the hunky quarterback back in his American football-playing days. Such routines tend to reinforce his 'nice-guy-doing-his-best' persona – but also have the collateral effect of highlighting how few gay male American comics there are speaking about their experiences in the mainstream, compared to what seems like a fair representation this side of the Atlantic.
That our worlds are slightly different causes him some hesitancy in other areas as he finds his feet on his first Edinburgh performance, grappling with the local references and figuring out who we know and who we don't. Adjusting his voltage, he called it.
That sadly means that his Andy Kindler is unlikely to make another appearance over the rest of the run, as his fellow comedian is too niche a figure. Shame, as it's pinpoint accurate depiction of that comically angry and bitter self-saboteur. However, Adomian's baffling punchline evoking William Jennings Bryan, a 19th Century Nebraskan Congressman, will be less sorely missed. It'll be a stronger show once he figures out what we know and what we don't.
Review date: 4 Aug 2017
Reviewed by: Steve Bennett
Recent Reviews
What do you think?